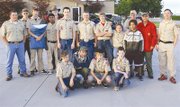 How much lower can local thieves sink? That's what Dr. Gary Martin is wondering.
A spokesman for Sunnyside Boy Scout Troop 635, Martin said thieves last week made off with most of the 14 boys' camping gear, as well as a new, 14-foot cargo trailer that had been used to haul the camping equipment.
The utility trailer, a fairly new 2007 model, was locked in a storage yard on Warehouse Avenue. Martin said thieves broke through a fence and took the trailer, as well as all the camping gear that was inside it.
"It is pretty disappointing," said Martin, especially considering that the local Scouts truly love to go camping.
Scout Master Paul Furan said the troop had saved and built and purchased equipment over the years, and then had the money donated to buy a nearly new cargo trailer to haul the camping gear.
"It made it very easy to go camping since we could just hook up the trailer and go," said Furan. "All we needed for a weekend campout was inside (the trailer)...axes, stoves, pots and pans, camping boxes, propane, awnings, tents, water containers, Scout books, lanterns."
This week the local Scouts, who range in age from 12 to 18, are away at Camp Fife, using borrowed and surplus gear. Future camping trips, however, are up in the air.
The loss of the camping gear and trailer, said Martin, "...will definitely curtail a lot of our activities."
In an effort to retrieve the stolen equipment, a $500 reward is being offered to anyone who helps apprehend the thieves and assists in returning the scouting equipment and trailer to the local Scouts. All calls, said Martin, should be directed to the Sunnyside Police Department.
"We're hoping someone notices that a cargo trailer suddenly turned up in their neighborhood, and that they'll do the right thing and call the police," said Martin.