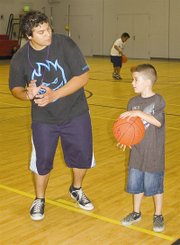 Summer break could be a time of late morning sleep-ins for high school graduates Jerry Orozco and Chris Salinas, but both young men have found a far more productive way to whittle away the long summer hours.
Each morning, Orozco and Salinas roll out of bed and prepare for a day of volunteering at the Sunnyside Community Center.
Neither young man lives in Sunnyside. Orozco comes from Mabton and Salinas from Grandview. But both are thrilled to be volunteering with the staff and children who frequent the Sunnyside Community Center.
"Those guys always know what's going on," said community center director London Wilson. He says that the boys have been in every day for the past two weeks and are always ready to engage the children in activity and learning.
The young men heard about the community center from Melody Griffin, Salinas's mother, who works with the local school district's free lunch program being offered at the center.
Orozco and Salinas said that their first day was just so fun they could not help wanting to come back.
"It beats just sitting at home," said Orozco.
Neither young man has extensive experience volunteering with youth, but they knew how to jump right in. And the work is more than playing games.
Salinas says that the volunteers help organize and plan each week's activity. Last week, the boys focused on teaching the community center children about hand-eye coordination. To do this, the children learned how to catch and throw dodge balls.
They have also been teaching the children about the importance of keeping hydrated during the day, especially during physical activity.
"They just need guidance," explained Salinas of his work with kids at the community center. "This is a good place to get that."
At the very least, the children are seeing fine role models in the young men who volunteer their time every day.
"They're helpful and they like to play with us," said 12-year-old Nico Pina.
The sentiment is shared by the children who come to the community center each day. Orozco and Salinas are right on top of anything amiss. A child gets hurt, they are there. Someone has no one to play with; they invite them to play a game. They answer questions, motivate the children and keep them active.
"We're trying to teach them [volunteers] to be real leaders," said Wilson. "They're learning to manage a group out of complete chaos."