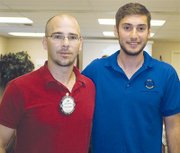 When Ates Akkor arrives back in his homeland of Turkey in early July he doesn't plan on staying for very long. Akkor has caught the bug.
"I plan on doing more traveling when I get back home," the soft-spoken Turk, who for the past year was Sunnyside's Rotary foreign exchange student, said. "I want to enter a foreign exchange student program and go to college in Europe."
The passion for traveling and seeing new things is something Akkor says he picked up in his year he spent in Sunnyside.
"Before I came here I had a fear of traveling alone, but I don't have that fear anymore," he said.
Akkor is encouraging students all over the world to get outside of their country for at least a year. He believes one year living outside one's country allows for more education than the entire four years of a student's high school run.
"It did for me," he said.
Akkor is from Izmir, Turkey, a place he describes as a liberal city, much like San Francisco. It was very different spending a year in Sunnyside, he said. For one thing, Akkor said his city is right on the coast. He also found the area to be a bit more conservative than he is used to, but still, he said, he had a great time and liked all the people he met.
"The people here are usually so nice," Akkor said.
He said Americans are a very nice people but kind of live in their own world and have their own thoughts on how things should be done. He added that Americans are reluctant to change.
What he liked best about Sunnyside, he said, was his four host families. He also thought very highly of the two Rotary clubs in Sunnyside he was a part of.
Life at high school was both surprising and what he expected. He had seen a lot of television shows and movies depicting high school and Akkor said it wasn't too much different from the films.
Sports were a surprise for him. In Turkey, he said, there are sports clubs and schools do not have their own teams.
"In America, high school sports are very competitive," he said. "Sports are a lot more physical."
The amount of violence in Sunnyside also surprised the young Turk.
"The first time the school was in lockdown I was surprised," he said. "I didn't know what was going on."
But all in all, he said, his year spent here was a great experience and encourages others to give it a try. Sunnyside students can also travel abroad through the Rotary exchange program and Akkor said he wishes more would do it.
If other students are interested in being a foreign exchange student they need to contact Sunnyside Daybreak Rotary Club President Jay Hester at 839-7678.
When Akkor was asked what he was most looking forward to when he arrived back home his answer was quick in coming.
"Healthy food," he said.