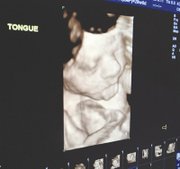 The Sunnyside Community Hospital Breast Imaging Center currently offers the only digital mammography services in Yakima County.
Now the hospital has added 4-D ultrasound imaging to the services available to the women of the Yakima Valley.
The 4-D ultrasound is a live 3D ultrasound exam. It is used to allow parents to see a live image of their baby at 28 to 32 weeks.
Ultrasounds are a medical test which uses high frequency sound waves to produce a picture of the organs in the body. In the case of pregnancy ultrasounds, they are routinely ordered by a health care provider to produce an image of the fetus.
"This service was added to the hospital at the request of many of our patients," said Imaging Department Director Coleen Goulet. "The images the camera produce are quite stunning, and it is so meaningful to parents to see their baby prior to birth."
Goulet added, "A 4-D ultrasound takes images from a few different angles, which reveal more detailed images of the fetus, such as facial features."
The hospital budgeted about $30,000 for the system upgrade to allow the 4-D testing. Technicians were trained in the procedures necessary to do the 4-D exam.
"It takes about 15-20 minutes longer than a regular ultrasound examination," Goulet explained. "All ultrasound examinations require a doctor's order. From 28 to 32 weeks, babies are developing the fat layer that fills in their features so you will see more facial detail at this time."
Goulet noted that 4-D imaging depends upon the baby's position, size, movement and the amount of amniotic fluid present.
Goulet said the cost of a 4D exam is the same as a traditional 3-D ultrasound. "We give the parents a DVD of the procedure they can play at home. It has already become very popular with our patients."
Sunnyside Community Hospital will now be incorporating the 4-D imaging in all pregnancy ultrasounds on patients who fall between the 28 to 32-week mark. Women with questions about mammography or 4-D ultrasound may call the imaging department at (509) 837-1760.
The hospital's digital mammography provides a clearer image of the breast than traditional film camera.
The digital images can be enlarged on a computer to check minor anomalies and find a potential cancer before it grows large.
"Our digital mammography program is an important step toward improving diagnostic services for women's health in our valley," said Goulet. "We have seen an increase in our mammography patients over the past few months, despite the downturn in the economy."