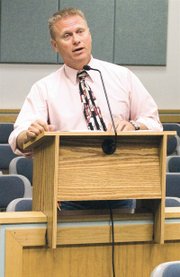 Mark Baysinger, the director of Sunnyside's Promise, gave the Sunnyside City Council an update last night (Monday) on the progress of the group.
Recent projects being conducted by Sunnyside's Promise include installation of the new soccer fields near the Sunnyside Law and Justice Center, the Lucky 7 Bike Club and operating the community center.
Baysinger said the soccer fields have been a work in progress and the ground has presented quite a few challenges. The first obstacle was the removal of a large tree on the grounds. Then fill dirt was brought in and the city brought in a loader to spread it around.
"This made the field much more level," Baysinger said.
Sunnyside Valley Irrigation District installed an irrigation system, the field was leveled again and boundaries for fencing were set.
Baysinger said the project involved the Sunnyside youth as much as possible. He said middle school students in Sunnyside were involved with making signs for the field.
A fence has been installed and Baysinger said debris is being cleaned from the field. The area still needs to be wired up for electricity.
The Lucky 7 Bike Club has been a great way to develop mentors, Baysinger told the council. So far in 2010 the club has had a great year.
He told the council the Sunnyside High School welding class has built 10 work benches for the club to use as they rebuild bikes. New tools to rebuild the bikes have also been donated to the club.
The community center in Sunnyside is being used by Sunnyside's Promise and Baysinger said programs for area youth have been initiated. One event at the community center to get input from the public attracted nearly 180 people.
Baysinger also primed the council for a request for another donation to help pay the community center director's salary. He expects to come back with a budget to outline exactly what he needs to keep the community center program humming along.
The council has an additional $30,000 at its disposal for the community center. Baysinger said Sunnyside's Promise has enough funds to pay the director for the next couple of months but would need more funds if the program is to continue for the rest of the year.