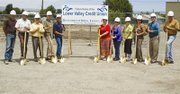 GRANDVIEW - With white hard hats on and golden-tipped shovels in their hands, Lower Valley Credit Union board members and employees conducted a ground breaking ceremony yesterday (Tuesday) for its newest branch in Grandview.
Located at 1019 W. Wine Country Rd., the branch is expected to be open sometime this year in either November or December.
Once the branch is completed Lower Valley Credit Union members will have the convenience of three office locations to conduct business in, including the home office in Sunnyside and a branch office in Prosser that was opened in November of 2005.
"It's exciting to provide a full service branch to better serve our Grandview area membership and look forward to serving our existing members and new members alike," said Lower Valley Credit Union CEO Dave Ballinger. "We are very proud in becoming an official part of the Grandview community. With 20 percent of our existing membership already from the Grandview area, it only seemed appropriate to build in Grandview."
Ballinger said there are more than 1,000 Lower Valley Credit Union customers living in the Grandview area and the new branch will make it more convenient for them to use the credit union's services.
A broad range of financial services will be available at the Grandview branch, including full teller and lending services, retirement accounts, share certificates of deposit, kids club, 24-hour online account access, bilingual staff and fast local service.
The new branch is expected to employ five people.
Lower Valley Credit Union was originally founded and formed in the basement of a local Sunnyside church in 1952 by local families, who made initial deposits of $5. The credit union has now grown to possess $50 million in assets.
Membership is open to people who live, work, worship or attend school within any school district in the state of Washington.