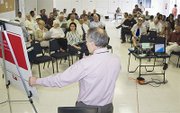 ZILLAH - Sandra Simmons hasn't been able to use her own tap water in five years due to a contaminated well.
She's one of 30,000 rural residents in the Lower Yakima Valley who rely on groundwater wells for their water supply.
It is estimated one-in-five Lower Valley wells, those outside of municipal water systems, have groundwater contamination from nitrates, E Coli or both.
That figure attracted a crowd of about 70 people to Zillah yesterday, Tuesday, for a meeting of local residents, as well as federal, state and local officials.
The federal Environmental Protection Agency has known about the problem for at least 25 years and due to public pressure organized yesterday's meeting.
"It's kind of depressing," said Simmons, who lives just north of Zillah. "You think about nice country living only to have a contaminated well be part of the idyll."
Simmons and her family found out about their tainted well five years ago when daughter Lily was born. She said state officials visited their home when they found out a baby was living at a rural address and tested their water for nitrates.
Tests showed a rate of 27.4 parts per million, nearly three times the legal limit.
Drinking water with high levels of nitrates can cause diarrhea and even worse, such as "blue baby syndrome" in infants due to lack of oxygen.
The Simmons family can't drink or cook with the water. It's only suitable for bathing, she says. The family has to rely on gallons of bottled water. "It's expensive to recycle them," she says.
During yesterday's meeting, which announced the formation of a groundwater management area in Yakima County, it was Simmons who asked the EPA, "What should we do with our water?"
The answer, at least for the near future, appears to be a reverse osmosis machine that uses a high pressure pump to remove contaminants from drinking water.
The machines are expensive, but with a $500,000 grant in hand from the state legislature, Yakima County will make available free reverse osmosis technology to residents with contaminated wells.
Vern Redifer, the county's public services director, told the crowd there will not be enough reverse osmosis filters for every home with contaminated wells.
He said that means the equipment will be distributed, perhaps as soon as next month, on a priority system that takes into account a family's health issues and income.
Yesterday's meeting was about more than a temporary fix, though, as the search is on to find the source of nitrates and other contaminants.
Curt Black is a scientist with the EPA, and he said 300 wells were tested in the Lower Valley for nitrates and other contaminants. Black noted samples were also taken from dairy lagoons.
He said 10,000 different samples from the Lower Valley were sent out for testing and expects the results may be back by August. Black noted, though, it will likely be late 2010 or early 2011 before a full report is completed.
In addition to research, plans are underway to form a groundwater management group next year consisting of state, county and federal representatives.
Tom Eaton works for the EPA and he wrapped up the meeting by saying the management group is "drawing a line in the sand." He said the goal is to make inroads on the water contamination issue - and enforcement against violators - within five years.
Eaton noted it may take decades to get the clean-up accomplished, but the work must get underway.
"Unless you want your children and your children's children to have to replace osmosis filters we have to get started," he said.
A start is great news to Simmons.
"I'm so glad we're finally doing something about this," she said.