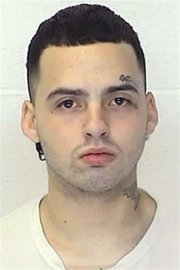 The Sunnyside Police Department has issued a warrant for Joseph Michael Doney, 21, of Sunnyside for his possible role in this past Saturday's shooting incident in the 1300 block of North Avenue.
Doney is believed to have been a participant in the incident, along with Ricardo Casares, 20, of Sunnyside.
Casares was arrested Monday, say police, after police located a Dodge Neon, firearm and additional evidence linked to the shooting.
Also in custody and under an investigative hold is Cynthia Perales, 19, of Sunnyside.
Casares, the suspected shooter, is being held on requested charges of three counts of assault first degree and one count of unlawful possession of a firearm and/or ammunition.
The shooting incident is, according to police, believed to be gang-related in which an 18-year-old male was targeted as a former rival gang member. Two other individuals, a 13-year-old female and a 19-year-old male of Sunnyside, with no known gang ties, were also in the area when the shooting occurred. No injuries were sustained as a result of the shooting incident, but two homes were struck by bullets.
Doney has two active warrants for his arrest and police are urging anyone with information leading to his arrest to call 836-6200.
In other police activity since yesterday (Tuesday) Sunnyside police have been alerted to two burglaries and shots heard in the area of Gregory Avenue and Federal Way.
Three callers reported hearing gunfire in the area just before 11 a.m. yesterday, but police were unable to locate any evidence of shots fired.
A home in the 100 block of Midvale Road yesterday at approximately 11:15 a.m. was found to have had a door kicked in. The caller told police it appeared an air conditioning unit was stolen in the burglary incident.
Another Sunnyside resident in the 1300 block of South Street noticed a male suspect just before 11:30 p.m. yesterday attempting to kick in a door at a nearby home. The caller watched the suspect in his failure to break into the home move on in an attempt to kick in a window to a nearby vehicle.
Police have since yesterday also responded to a 9-1-1 hang-up call, two automatic alarm calls, two fights, a juvenile problem, three suspicious activity calls and a possible vehicle prowl. Officers have also provided two agency assists and served three arrest warrants.