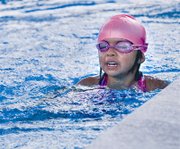 GRANDVIEW - Claiming first-place finishes in 59 of the 74 events staged last night, the Sunnyside Sharks invaded the Grandview pool and swam off with a dominating 635-170 victory.
Tuesday evening's win improved the Sharks' Mid-Valley Summer Swim League record to 3-1. The Neptunes are still in search of their first victory of the summer.
Despite sustaining the lopsided loss to the Sharks, Grandview boys 12&U swimmer Micah Binfet clearly made the highlight reel. Of the 15 wins the Neptunes notched against Sunnyside, Binfet was in on six of them.
Binfet won the butterfly, breaststroke, freestyle and individual medley races in his age bracket. He also swam on the two winning boys 12&U medley and freestyle relay squads.
The Neptunes also received an outstanding performance from boys 18&U swimmer Ryan Contreras. He topped the competition in the 40-yard butterfly, backstroke and freestyle races, as well as in in the 160-yard individual medley.
Other than the two age divisions that Binfet and Contreras competed in, however, Sunnyside had its way against the Neptunes. The standouts for the Sharks included the likes of Bailey Hazzard, two wins at girls 8&U; Clay Schilperoort, two wins at boys 8&U; Emily Banks, four wins at girls 10&U; Carlo Rodriguez, six wins at boys 10&U; Katelyn Banks, four wins at girls 12&U; Brittany Broersma, seven wins at girls 14&U; Alex Perez, seven wins at boys 14&U; Marisa Broersma, five wins at girls 16&U; Cristian Vargas, six wins at boys 16&U; and Alissa Martin, four wins at girls 18&U.
Of the 74 different races that were held, four of them were nail-biters as only a whisker separated the top two in each of them.
The first of the photo finishes came in the girls 12&U, 40-yard butterfly. Sunnyside teammates Aydan Harrington and Katelyn Banks battled for the top spot, but in the end it was Harrington prevailing by one-tenth of a second with her clocking of 26.68 seconds.
It was also exactly one-tenth of a second that separated Grandview's Contreras and Edgar Vargas of Sunnyside in the boys 18&U, 40-yard butterfly. Contreras nipped the Shark at the finishing wall with a time of 23.47 seconds, compared to Vargas' clocking of 23.57.
Sunnyside's Reese Gray also got pushed to the very end competing in the girls 8&U, 40-yard backstroke. Gray touched the wall in 51.54 seconds for the victory, but Grandview's Kaitlyn Ott was less than a blink behind with a clocking of 51.68 seconds.
The final nail-biter of the night came in the girls 16&U, 160-yard individual medley. Grandview teammates Tiffany Owens and Samanta Castaneda battled to the very end. When the clockings were officially recorded, it was Owens coming out on top in a time of 2:20.38. Castaneda's clocking was 2:20.84.
Sunnyside 635-Grandview 170
160-Yard Medley Relay
Girls 10&U
1st-Sunnyside (A. Maldonado, E. Banks, J. Mendoza, G. Gray) 2:27.00
Boys 10&U
1st-Sunnyside (S. Gray, J. Heffron, C. Rodriguez, P. Van de Graaf) 2:24.84
Girls 12&U
1st-Sunnyside (K. Banks, H. Vergara, A. Harrington, K. Bestebreur) 1:59.00
Boys 12&U
1st-Grandview (T. Valenzuela, M. Binfet, J. Valdez, M. Prieto) 2:24.95
Girls 14&U
1st-Sunnyside (T. Perez, P. Sample, M. Marquez, B. Broersma) 1:52.00
Boys 14&U
1st-Sunnyside (C. Martin, T. Frank, E. Partch, A. Perez) 2:00.59
Girls 16&U
1st-Sunnyside (M. Broersma, A. Newhouse) 1:50.00
Boys 16&U
1st-Sunnyside (T. Stiteler, G. Stutesman, C. Vargas) 1:42.37
40-Yard Butterfly
Girls 8&U
1st-Bailey Hazzard (S) 46.50, 2nd-Kameran Rodriguez (S) 51.07, 3rd-Reese Gray (S) 51.11, 4th-Arizona Rodriguez (S) 55.48
Boys 8&U
1st-Angel Morales (G) 42.00, 2nd-Clay Schilperoort (S) 51.59, 3rd-Luke Stutesman (S) 1:02.20, 4th-Logan Rodriguez (S) 1:23.26
Girls 10&U
1st-Emily Banks (S) 29.68, 2nd-Jolissa Mendoza (S) 35.12, 3rd-Jenna Brown (S) 36.30, 4th-Ashlee Maldonado (S) 39.25
Boys 10&U
1st-Carlo Rodriguez (S) 38.89, 2nd-Parker Van de Graaf (S) 40.54, 3rd-Johnny Heffron (S) 43.44, 4th-Skylar Gray (S) 44.25
Girls 12&U
1st-Aydan Harrington (S) 26.68, 2nd-Katelyn Banks (S) 26.76, 3rd-Lindsay Schilperoort (S) 30.15, 4th-Heidi Vergara (S) 31.58
Boys 12&U
1st-Micah Binfet (G) 28.18, 2nd-Fox Rodriguez (S) 32.36, 3rd-Adrian Heffron (S) 34.66, 4th-Mathew Marquez (S) 38.28
Girls 14&U
1st-Brittany Broersma (S) 24.78, 2nd-Payton Sample (S) 26.97, 3rd-Madi Marquez (S) 29.25, 4th-Courtnie Cunningham (S) 30.31
Boys 14&U
1st-Alex Perez (S) 26.45, 2nd-Ethan Partch (S) 29.41, 3rd-Trajen Frank (S) 33.19
Girls 16&U
1st-Marisa Broersma (S) 24.53, 2nd-Alexandra Newhouse (S) 25.39, 3rd-Ashlyn Sehnert (G) 32.32, 4th-Emily Hutchins (S) 32.89
Boys 16&U
1st-Cristian Vargas (S) 21.34, 2nd-Fabian Ruiz (G) 22.75, 3rd-Grant Stutesman (S) 25.16
Girls 18&U
1st-Kristen Wedam (S) 25.53, 2nd-Alissa Martin (S) 26.54
Boys 18&U
1st-Ryan Contreras (G) 23.47, 2nd-Edgar Vargas (S) 23.57, 3rd-Julian Villegas (S) 26.33
40-Yard Breaststroke
Girls 8&U
1st-Bailey Hazzard (S) 41.88, 2nd-Arizona Rodriguez (S) 48.44, 3rd-Kameran Rodriguez (S) 53.25, 4th-Aysiah Garza (S) 1:02.16
Boys 8&U
1st-Luke Stutesman (S) 46.83, 2nd-Angel Morales (G) 55.82, 3rd-Clay Schilperoort (S) 1:00.22
Girls 10&U
1st-Emily Banks (S) 38.64, 2nd-Cassandra Ruiz (G) 41.09, 3rd-Jolissa Mendoza (S) 42.18, 4th-Madison Diener (G) 42.23
Boys 10&U
1st-Johnny Heffron (S) 40.81, 2nd-Carlo Rodriguez (S) 43.65, 3rd-Parker Van de Graaf (S) 45.75, 4th-Skylar Gray (S) 45.83
Girls 12&U
1st-Heidi Vergara (S) 31.47, 2nd-Katelyn Banks (S) 32.62, 3rd-Kalie Bestebreur (S) 33.02, 4th-Aydan Harrington (S) 35.48
Boys 12&U
1st-Micah Binfet (G) 30.62, 2nd-Mathew Marquez (S) 37.03, 3rd-Fox Rodriguez (S) 37.13, 4th-Tavian Valenzuela (G) 37.23
Girls 14&U
1st-Brittany Broersma (S) 28.82, 2nd-Katelyn Hazzard (S) 33.11, 3rd-Meghan Marquez (G) 33.24, 4th-Payton Sample (S) 35.53
Boys 14&U
1st-Alex Perez (S) 31.78, 2nd-Trajen Frank (S) 33.38, 3rd-Brendon Lynch-McGhan (G) 35.14, 4th-Ethan Partch (S) 36.75
Girls 16&U
1st-Marisa Broersma (S) 28.81, 2nd-Kara Phillips (G) 32.33, 3rd-Alexandra Newhouse (S) 32.59, 4th-Tara Van Corbach (S) 33.81
Boys 16&U
1st-Cristian Vargas (S) 27.53, 2nd-Tim Stiteler (S) 28.85, 3rd-Fabian Ruiz (G) 29.82, 4th-Grant Stutesman (S) 30.27
Girls 18&U
1st-Alissa Martin (S) 32.62, 2nd-Gio Gomez (G) 34.54
Boys 18&U
1st-Edgar Vargas (S) 34.49, 2nd-Julian Villegas (S) 55.31
40-Yard Backstroke
Girls 8&U
1st-Reese Gray (S) 51.54, 2nd-Kaitlyn Ott (G) 51.68, 3rd-Arizona Rodriguez (S) 53.91, 4th-Kameran Rodriguez (S) 54.04
Boys 8&U
1st-Clay Schilperoort (S) 45.88, 2nd-Alec Bazaldua (S) 1:00.79, 3rd-Angel Morales (G) 1:02.38, 4th-Nicolas Cortez (G) 1:11.69
Girls 10&U
1st-Lia Anderson (S) 39.50, 2nd-Jenna Brown (S) 41.05, 3rd-Madison Diener (G) 42.81, 4th-Madison Bowen (S) 44.31
Boys 10&U
1st-Carlo Rodriguez (S) 40.83, 2nd-Skylar Gray (S) 42.20, 3rd-Parker Van de Graaf (S) 45.65, 4th-Ricardo Abarca (G) 48.49
Girls 12&U
1st-Katelyn Banks (S) 29.68, 2nd-Lindsay Schilperoort (S) 32.02, 3rd-Aydan Harrington (S) 32.24, 4th-Aidan Hudgens (S) 33.63
Boys 12&U
1st-Fox Rodriguez (S) 40.88, 2nd-Mathew Marquez (S) 41.31, 3rd-Joel Torres-Perez (G) 41.33
Girls 14&U
1st-Brittany Broersma (S) 26.72, 2nd-Amanda Marquez (G) 29.95, 3rd-Tiana Perez (S) 30.05, 4th-Payton Sample (S) 33.90
Boys 14&U
1st-Alex Perez (S) 30.52, 2nd-Christopher Martin (S) 32.95, 3rd-Ethan Partch (S) 35.00, 4th-Nate Scheenstra (S) 39.00
Girls 16&U
1st-Samanta Castaneda (G) 29.78, 2nd-Alexandra Newhouse (S) 30.84, 3rd-Charley Beth Rollinger (S) 32.66, 4th-Emily Hutchins (S) 34.53
Boys 16&U
1st-Cristian Vargas (S) 24.67, 2nd-Tim Stiteler (S) 25.68, 3rd-Fabian Ruiz (G) 30.12, 4th-Grant Stutesman (S) 30.67
Girls 18&U
1st-Alissa Martin (S) 28.95, 2nd-Danielle Newhouse (S) 31.91, 3rd-Gio Gomez (G) 35.70
Boys 18&U
1st-Ryan Contreras (G) 27.03, 2nd-Edgar Vargas (S) 29.89, 3rd-Julian Villegas (S) 31.76
40-Yard Freestyle
Girls 8&U
1st-Arizona Rodriguez (S) 41.28, 2nd-Reese Gray (S) 41.85, 3rd-Kameran Rodriguez (S) 44.41, 4th-Bailey Hazzard (S) 47.47
Boys 8&U
1st-Clay Schilperoort (S) 39.79, 2nd-Nicolas Cortez (G) 46.56, 3rd-Angel Morales (G) 47.00, 4th-Alec Bazaldua (S) 52.00
Girls 10&U
1st-Jolissa Mendoza (S) 28.47, 2nd-Emily Banks (S) 29.45, 3rd-Madison Diener (G) 31.45, 4th-Ashlee Maldonado (S) 34.50
Boys 10&U
1st-Carlo Rodriguez (S) 31.30, 2nd-Parker Van de Graaf (S) 32.40, 3rd-Skylar Gray (S) 32.90, 4th-Ricardo Abarca (G) 36.00
Girls 12&U
1st-Katelyn Banks (S) 25.30, 2nd-Heidi Vergara (S) 26.40, 3rd-Aydan Harrington (S) 26.90, 4th-Kalie Bestebreur (S) 26.95
Boys 12&U
1st-Micah Binfet (G) 23.10, 2nd-Adrian Heffron (S) 25.00, 3rd-Fox Rodriguez (S) 28.00, 4th-Maurice Prieto (G) 29.20
Girls 14&U
1st-Brittany Broersma (S) 21.53, 2nd-Madi Marquez (S) 24.34, 3rd-Payton Sample (S) 24.50, 4th-Tiana Perez (S) 25.20
Boys 14&U
1st-Alex Perez (S) 22.75, 2nd-Ethan Partch (S) 27.20, 3rd-Brendon Lynch-McGhan (G) 27.60, 4th-Trajen Frank (S) 28.10
Girls 16&U
1st-Marisa Broersma (S) 21.71, 2nd-Kara Phillips (G) 22.20, 3rd-Alexandra Newhouse (S) 23.00, 4th-Tiffany Owens (G) 24.50
Boys 16&U
1st-Fabian Ruiz (G) 19.25, 2nd-Tim Stiteler (S) 20.53, 3rd-Cristian Vargas (S) 21.80, 4th-Dominic Garza (G) 22.45
Girls 18&U
1st-Gio Gomez (G) 23.50, 2nd-Alissa Martin (S) 24.71, 3rd-Danielle Newhouse (S) 26.32
Boys 18&U
1st-Ryan Contreras (G) 21.78, 2nd-Edgar Vargas (S) 22.31, 3rd-Julian Villegas (S) 22.38
160-Yard Freestyle Relay
Girls 10&U
1st-Sunnyside (E. Banks, G. Gray, A. Maldonado, J. Mendoza) 2:17.66
Boys 10&U
1st-Sunnyside (P. Van de Graaf, S. Gray, J. Heffron, C. Rodriguez) 2:20.94
Girls 12&U
1st-Sunnyside (K. Bestebreur, A. Harrington, L. Schilperoort, K. Banks) 1:51.21
Boys 12&U
1st-Grandview (M. Binfet, T. Valenzuela, J. Valdez, M. Prieto) 2:06.43
Girls 14&U
1st-Sunnyside (B. Broersma, M. Marquez, T. Perez, P. Sample) 1:39.26
Boys 14&U
1st-Sunnyside (T. Frank, C. Martin, E. Partch, A. Perez) 1:50.33
Girls 18&U
1st-Sunnyside (E. Hutchins, A. Martin, A. Newhouse, M. Broersma) 1:40.87
Boys 18&U
1st-Sunnyside (C. Vargas, G. Stutesman, T. Stiteler, J. Villegas) 1:31.67
160-Yard Individual Medley
Girls 10&U
1st-Gentri Gray (S) 3:17.88, 2nd-Madison Bowen (S) 3:29.36, 3rd-Esmi Cerda (S) 3:35.53, 4th-Madison Diener (G) 3:37.09
Boys 10&U
1st-Carlo Rodriguez (S) 3:04.85, 2nd-Skylar Gray (S) 3:18.66, 3rd-Parker Van de Graaf (S) 3:26.08, 4th-Johnny Heffron (S) 3:29.47
Girls 12&U
1st-Heidi Vergara (S) 2:44.71, 2nd-Kyla Norell (S) 2:56.42, 3rd-Hunter Perez (S) 2:57.70, 4th-Viannei Perez (G) 3:07.38
Boys 12&U
1st-Micah Binfet (G) 2:36.17, 2nd-Fox Rodriguez (S) 2:40.91, 3rd-Adrian Heffron (S) 3:01.39, 4th-Tavian Valenzuela (G) 3:04.99
Girls 14&U
1st-Brittany Broersma (S) 2:11.37, 2nd-Madi Marquez (S) 2:25.48, 3rd-Tiana Perez (S) 2:34.90
Boys 14&U
1st-Alex Perez (S) 2:21.84, 2nd-Trajen Frank (S) 2:48.29, 3rd-Ethan Partch (S) 2:58.24, 4th-Brendan Lynch-McGhan (G) 3:04.66
Girls 16&U
1st-Tiffany Owens (G) 2:20.38, 2nd-Samanta Castaneda (G) 2:20.84, 3rd-Jessica Morales (G) 2:35.79, 4th-Ashlyn Sehnert (G) 2:55.28
Boys 16&U
1st-Cristian Vargas (S) 2:01.17, 2nd-Tim Stiteler (S) 2:09.45, 3rd-Fabian Ruiz (G) 2:11.85, 4th-Dominic Garza (G) 2:27.76
Girls 18&U
1st-Alissa Martin (S) 2:30.25
Boys 18&U
1st-Ryan Contreras (G) 2:10.00, 2nd-Julian Villegas (S) 2:52.00