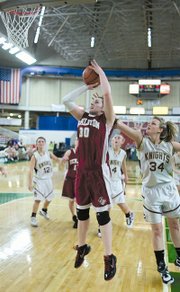 YAKIMA - For the first time in nearly 30 years, Bickleton's Lady Pirates have claimed State honors, finishing the season in seventh place at the State 1B girls tourney after defeating Wilson Creek 58-41 this past Friday and falling to familiar nemesis Sunnyside Christian on Saturday, 53-35.
Bickleton junior Katelynn Clinton was also recognized for scoring the most points during 1B State tourney play after finishing with 73 points, according to Coach Emily Barnhart.
In Friday's game against Wilson Creek, it was teammate Star Kibby who was the Lady Pirates' high scorer, notching 19 points and nabbing 10 steals. Clinton, who scored 10 points, also tallied 10 steals for a double-double.
"Star and Katelynn both tied the State tourney record for steals for a B school," Barnhart said. "We caused (Wilson Creek) to turn the ball over 52 times."
Of Wilson Creek's defensive efforts, Barnhart said, "They were guarding (Clinton) really tight, which kind of left everybody else wide open."
That attributed to pretty even scoring among the Lady Pirates. Morgan McBride scored 13 points for Bickleton and Aymie Osborne scored eight points and had five steals. Nakai Kibby scored six points and Jamie Venema scored two points.
"(We) had a rough time the first half getting the ball in the basket, but we never lost the lead," Barnhart said, noting her team was 9-for-42 from the field in the first two quarters of play, and ended the loser-out game 25-for-79.
Barnhart said squaring off against Sunnyside Christian on Saturday was the perfect way for the Lady Pirates to end their season.
"We wouldn't have rather played anybody else for that last game," Barnhart said. And, she added, "I think it's the best we've played against them so far this season."
Bickleton went into the half down 24-11 and didn't outscore Sunnyside Christian's Lady Knights until the fourth quarter.
"I think it came down to guts and who can win that fourth quarter," she said. "For (us) to stick with it and close that gap was great."
Barnhart said she was astounded at Bickleton's community support, and she was also pleased with the fact that the last game saw the Bickleton crowd cheering for Sunnyside Christian and visa-versa.