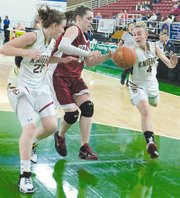 YAKIMA - Northsound Christian, said Sunnyside Christian girls Coach Al Smeenk, has some good players and began the 1B State tournament at the Yakima Sun Dome with a 15-3 record.
"We knew Friday's game would be tough," he shared of the 50-38 victory over the Lions.
He said the real difficulty was in stopping Melissa Castor of Northsound Christian, who scored 26 points over the Lady Knights.
"Some of them were from way outside, but somehow reached the bottom of the net," shared Smeenk.
Castor was 4-for-10 from outside the three-point arc and she scored nine field goals. She also snatched seven balls from the glass.
Northsound Christian's Catherine Oakland was another force to contend with at the boards. She grabbed another seven balls for the Lions.
"We didn't feel out of control, but we would have liked to have stopped Castor better," Smeenk commented.
Stepping up for the Lady Knights Friday was Analisa Van Oostrum and Renee Dalrymple. Van Oostrum scored 14 points to lead Sunnyside Christian's scoring. Dalrymple led from the boards with a double-double, grabbing 10 balls from the glass and scoring 12 points.
Kelly Newhouse of Sunnyside Christian also made some impressive moves for the ball, rebounding seven times and tallying another eight points for the Lady Knights.
"It was tough to bounce back after Thursday's two-point loss...it was the first time we were unable to sink any three-point shots," Smeenk shared, stating his team had to reach down and play the game both physically and emotionally drained.
"The fatigue really showed when we tried to stop Castor," Smeenk noted.
But, he kept with the game plan and his team followed through. They managed to keep their turnovers down to only seven.
The Lady Knights started with a 10-8 lead, and widened it going into the half up 22-16.
"We continued working hard to maintain the lead and come up with the win," Smeenk said. Sunnyside Christian held the Lions to 11 points in each of the quarters in the final half to win the game 50-38.
That moved Sunnyside Christian into the Saturday game against Bickleton for fourth and seventh place honors.
Again, the Lady Knights started slow with a one-point first quarter lead (8-7) over the Lady Pirates on their way to medal for fourth place at State with a 53-35 victory.
"We started out doing what we thought would be successful, but had to make some adjustments," said Smeenk.
The second quarter went a little differently with those adjustments as the Lady Knights pulled further away from Bickleton, scoring 16 points to the Lady Pirates' four. They went into the half up 24-11.
Smeenk said his team knew Katelynn Clinton and Star Kibby would create a challenge, and they did. Clinton scored 21 points, with nine baskets from inside the paint. Kibby scored six points, all of which were field goals.
Neither team had many opportunities from the charity line, as Bickleton tallied six points from 13 opportunities and Sunnyside Christian scored 6-for-15.
Lady Knight Renee Dalrymple scored 12 points, and teammates Julie Long and Marisa Broersma each tallied 11.
From the glass Joleen Van Wingerden was on fire. She snatched up 12 balls, while Dalrymple made a mighty attempt at a double-double, grabbing nine balls from the glass.
Sunnyside Christian had 16 turnovers, three of which were caused from steals by Clinton. She also blocked four of Sunnyside Christian's attempts at scoring.
Lady Knights Hilari Bosma, Van Oostrum and Dalrymple were each able to block two attempts at the basket.
Bosma scored five points in spite of a torn ACL and Van Oostrum tallied eight points, six of which were from outside the three-point arc.
"Hilari will have surgery Tuesday," Smeenk said, adding it was an emotional ending to a season in which Bosma gave all she had.
"She wanted to contribute at State and she really did...she deserves a lot of credit."
The coach continued, sharing his impressions of the overall experience. "It was a great tournament, with lots of entertainment and now it's over...the girls are now on to softball, and they know we (the basketball coaching staff) will be rooting for them.