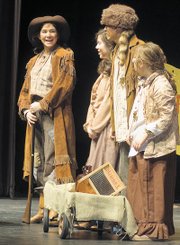 Annie Oakley and Frank Butler went head to head, or rather shot for shot, against each other this past weekend in the Sunnyside High School presentation of Annie Get Your Gun. Peter Stone's 1999 revival of the 64 year old Broadway classic had a little something for everyone, from memorable songs to humor, and yes, even a little romance.
Alright, it had a lot of romance. In fact, it's your typical story of love won and lost, then won again, with all the trials and tribulations that mark the way.
With wit and music to punctuate the story, Annie Get Your Gun tells the tale of Annie Oakley, an uneducated, country sharpshooter whose rise to fame in Buffalo Bill's Wild West Show costs her the man she loves.
Taking center stage as the vivacious and strong willed Annie are two talented young ladies.
Yes, you read that right: two.
Lainey Rodriguez brought her beautiful voice and first-rate acting to the leading role in Friday night's opening performance at 7 p.m. But theater-goers who made the 1 p.m. matinee were treated to the powerful stage presence and commanding vocals of Jazmine Salmeron.
Corey Murphy, director for Annie Get Your Gun, said he simply could not choose between the two young ladies for the lead role, and he must be commended for this decision. It was a treat to see both girls tackle the same role, each with varying results.
Rodriguez has a remarkable voice that is perfectly displayed in several of the musical's ballads. And when Annie challenges shooting rival and love interest Frank Butler, played by Bob Ruppert, in the song "Anything You Can Do," she hits the high note and holds another note for several impressive seconds. Bravo!
Salmeron is not easily overshadowed. Her presence on stage is energetic, something that the other actors fed off of, which helped raise the energy of Saturday's matinee above that seen on stage the night before. Salmeron projected her voice to the very back of the auditorium and refused to let the music of each song overpower her singing.
While Rodriguez and Salmeron were spot-on in their performances, it's important to note the hard work and skill of those who fill the story around them. Most notable among them were Renae Haringa as Dolly Tate, the bigoted, arrogant assistant to Frank Butler, and Kurt Furan, who portrayed the manager of Buffalo Bill's Wild West Show, Charlie Davenport.
Both young actors got to do some singing and dancing, but where they stand out is in their acting. Annie Get Your Gun was born out of the 1940s, where musicals and movies were filled with the best selection of character actors to create a unique array of personalities to support the leading actors. Whether or not Haringa and Furan knew this, they both managed to achieve it easily, helping to make their scenes some of the most entertaining.
No production is without its mishaps, but it's simply not worth mentioning forgotten lines and minor malfunctions, as they are a staple of live theater. But there were no awkward pauses, no moments where actors took too much time to think of what they should do next. Problems were fixed and the show went on.
But there was one thing strangely missing from this musical: dancing in the first act.
The opportunity and talent was on that stage, but with a cast of almost forty performers, the lack of any big dance numbers was sorely missed and made several of the musical numbers uneventful.
The number "My Defenses Are Down" certainly provided the opportunity, and for a moment there is a glimpse at what could be, but it ends too quickly and leaves the audience wanting more. Saloon Girls Marielle Abbott, Leann Lopez and Rica Parramore were sadly underused and had dance steps and high kicks that lasted approximately fifteen seconds. Then they were gone, and missed.
Overall, the talent found in Annie Get Your Gun is certainly worth taking the time to see. There is still the opportunity to catch either Lainey Rodriguez or Jazmine Salmeron, or both, if the mood strikes you, as Annie Oakley. Rodriguez takes the stage for both Friday and Saturday's 7 p.m. performances, while Salmeron gives her final show Thursday night at the same time.
Find the time, buy a ticket and, as Leann Lopez writes in her Senior Bio in the Annie Get Your Gun program, "Sit back, relax and enjoy the show!