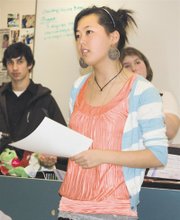 Sunnyside High School junior Christine Kim has earned the grand prize at the local science fair last night, Monday, and will now compete at the Regional fair, which takes place at Columbia Center Mall beginning March 11.
Kim, the high school's Science Club president, studied shark oil's affect on cancer cells.
All told, 38 high school students created projects and there were 14 supporters who judged them. At the middle school level, 17 science fair projects were presented and six volunteers judged the projects.
It was Zach Halma's research into alcohol and injection site bacteria that earned the grand prize.
The local science fair recognizes first, second and third place honors for high school entries in addition to the grand prize.
Science Club Publicist Baylie Yates earned first place honors, Science Club Vice President and Secretary Courtney Stiltner placed second and Eugenio Rivera placed third.
Honorable mentions included Amanda Villarreal, Sara Berumen, Daisy Guizar, D.J. Reiff, Christine Woods, Yesenia Garcia, Manny Rivera, Cynthia Van Wingerden and George Villalobos.
At the middle school level, Makaila Chavez placed first, Jazmin Gonzalez placed second.
Earning honorable mention were Katie Hutchens, Diana Chavez, Payton Sample, Cole Gardner and Eva Velasco.
With her usual fanfare and mock "scientific-experiment-gone-wrong" fun, SHS science teacher Joyce Stark managed to nearly blow up a water bottle. Twice. The second time, Stark had the younger award ceremony attendees in awe, and also fretting because they truly believed she'd hidden the names of the award winners in one of the bottles.
Other fun for the night included learning that fellow science teacher Teri Alvarez-Ziegler was the first SHS student to go to international science fair back in 1982 when her teacher was none other than Stark. Fellow SHS staff member Eric Sylling was also a pupil of Stark's.
Stark noted the school district's budget gets tighter and tighter each year for science fair participation.
She said Sunnyside Physical Therapy, Dr. Doug Rodriguez, Dr. Randy Schuler and Dr. Krishna Chand of Lower Valley Surgical Group sponsored the Monday night awards ceremony and the middle and high school students' participation in the Regional Science Fair at Columbia Center Mall March 11-13.