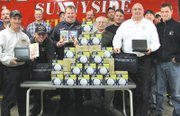 The Sunnyside Fire Department used two recently awarded grants from Walmart to purchase supplies for long transports and equipment to help save lives.
Sunnyside Deputy Fire Chief Lloyd Hazzard said he applied for two grants from Walmart and received one for $1,000 and another for $750.
The $1,000 grant was used to buy two portable DVD players and some children's movies. The devices will be used in the department's ambulances that are used to transport patients.
"It's something for the kids to make their trips a little easier," Hazzard said. "This is especially for longer trips."
The rest of the money left over from the $1,000 grant was used to purchase water, Gatorade and power bars to rehydrate and fortify firefighters battling large blazes.
The $750 grant the fire department received from Walmart was given to the Washington State Council of Firefighters Burn Foundation. Hazzard said the foundation in turn matched that amount and sent Sunnyside Fire Department $1,500 worth of smoke detectors and batteries. This totaled 114 smoke detectors.
"Anytime we go to a house for a call and they don't have a smoke detector, we give them one," Hazzard said.
The batteries are given to owners of homes featuring smoke detectors but no batteries.