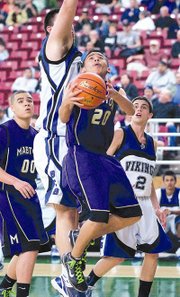 YAKIMA - Things weren't very easy for the Mabton High School boys basketball team yesterday, Wednesday, at the boys 1A State Tournament in Yakima.
The Vikings lost to Bellevue Christian 61-43 yesterday in the team's tourney opener.
Things won't get any easier today as the Vikings face No. 1 ranked Chelan in a loser-out contest.
"It was a tough game," Mabton Coach Brock Ledgerwood said of yesterday's game against Bellevue Christian. "We played hard, but the little things didn't go right for us. We didn't execute our offense."
Bellevue Christian is loaded with tall kids, like 6'8" Jake VandenBrink. Bellevue Christian has nine players on the roster that are over six foot. Mabton has merely two players reaching the six foot mark.
Bellevue Christian used its height to push ahead 16-11 after one quarter.
"I was surprised how they pushed us back from the basket and kept us from doing what we wanted to do," Ledgerwood said. "We weren't patient. We should have been attacking the basket."
But every time the Vikings tried, they were met by the bigger Bellevue Christian players.
"They are fundamentally sound and play solid defense," Ledgerwood said of the Bellevue Christian team.
Mabton was outscored 13 to 10 in the second quarter as Bellevue Christian built a 29-21 lead at halftime.
In the third period, Bellevue Christian was able to outscore the Vikings by seven points, 19-12.
"Their size on offense really affected us, but it was more of their execution," Ledgerwood said.
He said the game boiled down to Bellevue Christian taking care of the ball and doing what they wanted to with it. When Mabton had the ball, Ledgerwood said, the Vikings did what Bellevue Christian wanted.
"They dictated the flow of the game," Ledgerwood added. "That was the difference."
The Vikings were led by Carmen Johnson with 11 points and four rebounds. Derrick Nash scored eight points for the Vikings and grabbed four rebounds. Kristian Carrasco had seven points for Mabton and had six rebounds. Tyler Herrera dropped in five points. Teammates LeeTroy Rodriguez, Josh Strickland and Josh Sanchez each recorded four points for the Vikings.
Bellevue Christian was led by David Downs with 19 points and eight rebounds. VandenBrink recorded 17 points for Bellevue Christian and grabbed eight rebounds.
Ledgerwood had praise for his big men inside, Nash and Johnson, saying it was a difficult task to guard such tall players.
Mabton has a tough test today, facing No. 1 ranked Chelan at 2 p.m. in the SunDome. Chelan lost to Vashon Island yesterday and Ledgerwood said the only two teams with the No. 1 ranking this season in 1A has been those two teams.