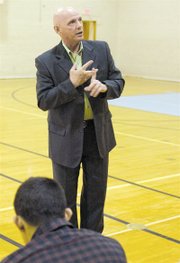 GRANDVIEW - As part of drug and alcohol awareness week at Compass High School in Grandview, students got an opportunity to hear from a recovering drug addict yesterday (Wednesday).
His message was clear: it's okay to ask for help.
Joel Tannehill, a drug counselor with Merit Resources that works at White Swan High School, told the Compass students he never asked for help for fear it would show weakness to others. That mistake cost the man 15 years of his life and saw the death of a close friend.
"This is weird for me," he told the students.
Speaking at Compass High was a homecoming, of sorts, for Tannehill. He explained he actually attended school in the CHS building, the very place he was addressing students Wednesday. He remembers everything about the building and the city, too. He joked that when he comes back to Grandview and somebody says they remember him, Tannehill wonders how much money he owes them.
Tannehill told his life story to the students at Compass.
He said he came to Grandview while in the third grade. His father was a full-blown alcoholic who would get violent when he was on a binge.
"I had a lot of problems, but I tried to put on a strong face," he said.
This included getting violent when he perceived that other students were laughing at him. Instead of asking for help, he lashed out.
In junior high, Tannehill said the need to impress other people to make friends introduced him to drinking. When he found out that two popular students drank, he told them he could get liquor. When Tannehill woke up the next day he felt terrible. The one thing that made him feel better was when his new friends told him how funny he was the night before while he was intoxicated.
This made him feel accepted, he said. Although he didn't like drinking and said it made him feel sick the next day, Tannehill made a conscious decision to do it again, only this time he thought he could control it.
"I was already thinking like an alcoholic," he said.
The booze soon turned to pot, then speed and finally cocaine.
He quit school his junior year, moved out of the house, began selling drugs and partied all of the time.
"We felt we were so smart," Tannehill said of himself and his friends.
With the drugs came the jail time and Tannehill found himself in and out of custody.
Tannehill was determined to clean himself up, so he got a steady girlfriend. He figured she would help him control his urges. Soon he had her strung out on booze and coke, as well. She went to jail for a crime they both committed and he lost touch with her. He later found out she had died in a car crash after a night of heavy drinking.
The death sent Tannehill into a spiral of drugs and he ended up overdosing several times. After going so long being afraid to ask for help, to show weakness, he finally did.
After several days in a rehab facility, Tannehill was clean.
"I never want to live like that again," he said.
He went back to school and became a counselor and his message is clear.
"It's okay to ask for help," he told the students.