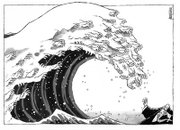 I was disrespectful of Governor Christine Gregoire when she signed Senate Bill 6130, gutting voter-approved I-960.
I attended the public bill signing wearing a suit-and-tie and standing beside her I held my nose with one hand and went thumbs down with the other for the official photo.
Some found it offensive, others funny, some heroic.
To me, it was just my way of peacefully protesting an enormous injustice.
The voters have three times approved initiatives requiring either two-thirds legislative approval or majority voter approval for tax increases: I-601 in 1993, R-49 in 1998, and I-960 in 2007. The people are being forced to pass it again and again because politicians keep refusing to abide by voter-approved laws.
Initiative 960 was the only initiative in 2007 to clear the highest of hurdles, qualifying with 314,000 signatures. Opponents immediately sued to block the people from voting, but a unanimous Supreme Court upheld the people's right to vote.
Gregoire repeatedly spoke out against I-960, saying it was unnecessary because she promised, if re-elected, not to raise taxes.
Special interest groups spent $1.3 million in advertising against it, our side spent nothing, no TV ads, no radio ads, not even campaign signs.
Nonetheless, the voters approved I-960 by a comfortable margin.
On election night I said, "David can beat Goliath." A few months later, Senate Majority Leader Lisa Brown filed a lawsuit to get I-960 overturned but a unanimous High Court rejected her complaint.
Despite overcoming all these obstacles, working for years to install I-960's protections, the Governor and the democrats took it away after a few hours of debate and several dead-of-night votes.
That stinks. And I'm not alone in thinking so.
KING TV just released a statewide poll and the results are striking: 68 thought it was the wrong thing to do, 24 percent thought it the right thing to do and 8 percent were undecided. When asked if tax increases should require a two-thirds vote or majority vote, a whopping 74 percent said two-thirds.
Voters want tax increases to be an absolute last resort.
Gregoire's refusal to retain I-960's transparency provisions was particularly galling. Besides the two-thirds vote of the people, I-960 provided greater legislative transparency and public participation in the process.
Many asked Gregoire for a partial veto, salvaging at least those widely supported policies of I-960. She refused. Here's what it did: under I-960, when the Legislature jacks up taxes and then slaps on an emergency clause, removing the people's constitutionally-guaranteed right to run a referendum undoing the tax, then the people at least get two pages in that November's voters pamphlet listing how legislators voted on the tax increase and how much it'll cost us. Gregoire took that away too. I-960 also allowed voters to express their opinion on such "emergency" tax increases with a non-binding advisory vote.
Here's Gregoire's explanation for not allowing the voters to express their opinion on tax hikes: "The public should expect when they say something, the legislature and the governor will respond. To ask for an advisory vote and then to not follow it, I think would add to the cynicism of the people of this state."
The audacity, arrogance, and shamelessness of that statement is stunning.
As for the first sentence, I agree that when voters vote, their representatives should respond and that's why they should've respected the voters' decision on I-960 and not taken it away. As for the second sentence, she's saying that no matter what the voters' opinion is, she and the democrats will not follow it so why ask. Expressing your opinion and having it ignored doesn't create as much cynicism as preventing the people from expressing their opinion in the first place.
For two years, I-960 worked exactly as voters intended. I-960 protected struggling taxpayers and our fragile economy from higher taxes. It worked and it can work again.
Help us give voters their fourth opportunity: this year's I-1053 resurrects I-960's protections for another two years. It's clear it's needed.
As for my holding-my-nose moment with Gregoire, it was disrespectful; but my disrespect for her won't cost taxpayers anything.
Her disrespect for the voters by overturning voter-approved I-960 will cost taxpayers billions of dollars in higher taxes.
To me, that really stinks.