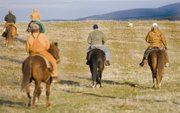 The 20,000-acre Sulphur Creek Ranch will again serve as the site this month for three weeks of shooting dog trials.
The Anderson family owns the ranch, six miles north of Sunnyside on Lewandowski Road, and they've served as field trial hosts for the past 51 years.
Amy Anderson Means is the third generation in the family to be involved with the shooting dog trials, and she said the competition gets started on Saturday, March 13, with the Region 10 Amateur shooting dog trials.
That's followed by the Pacific Coast championships, the National Chukar competition and the Oregon Shooting dog trials. The competitions will run daily over a period over about three weeks.
The field trials judge how well dogs are trained to not only locate chukar, a quail-like bird, but to sit still when the birds are flushed out by hunters for another round of trials.
The birds are not shot during the competition. Dog owners and judges monitor the dogs' success by following on horseback.
She says the public is invited to come out to admire the dogs and the horses.
Visitors should get there early, though.
"They're saddled up and ready to go by 7:30 a.m.," said Means.
Means says she's hoping to get the community more involved, especially the Sunnyside Chamber of Commerce, because of the income the dogs and their handlers bring to the city.
It's estimated that each dog generates $1,200 in revenues to local merchants through lodging, fuel and dining by the dog owners while in Sunnyside. Multiply that by 150 dogs and that represents about $180,000 plugged into the local economy.
Means praised Sunnyside merchants such as Bon Vino's of Sunnyside, which is opening earlier for breakfast during the trials, and sponsors such as Les Schwab and RDO Equpment of Sunnyside.
She says donations are needed for prizes awarded to the first and second place finishers in each event, as well as for housing and feeding trial judges while they are in town.
Rick Anderson owns the ranch and during last year's trials he noted that his family and crew have to move some of the cattle around on his farm during the trials. But it's not too big a job. "They don't usually bother anyone," he said of his cattle.
After five decades, the annual visitors to his ranch for the field dog trials have become like family
"We've always had a great time with them," Anderson has said of his annual guests who hail from as far away as Kansas. "They're part of the family.