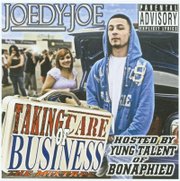 Jose Antonio Ochoa, known as Joedy-Joe in Northwest hip-hop circles, has just released his fourth CD titled, Taking Care of Business.
"It's a well formulated CD," Ochoa said of the 21-track effort. "It has transitions that go from hard street, to more relatable sounds, to more of a party feel, to hardcore lyrical music."
Ochoa, from Sunnyside, writes his own lyrics and creates his own instrumentals but this CD marks the first time he has sampled other musicians' instrumentals for his album.
Ochoa doesn't claim to be a "playa," but he does consider himself a ladies' man and writes his music geared toward the opposite sex.
"I'm doing something the ladies want to hear in clubs," he explained.
His career started at a young age when Ochoa was a sophomore at Sunnyside High School.
"I've always had a love for music," he said. "Ever since I was little I would watch MTV or listen to the radio."
He says the music just called to him. That music was hip-hop and Ochoa soon figured out the basics to the art and began coming up with lyrics and hooks.
"Hip-hop and rap is just poetry with a beat to it," he said.
In middle school he started to write a lot of poetry and later, in high school, he put the words to beats he created with the help of a computer software program.
"I always got positive feedback," he said. "When I started making beats my friends would ask me when I was going to put words to them."
So Ochoa did just that and, according to him, it created a buzz at the high school. In October of 2006, Ochoa rode that buzz and produced his first album, Homegrown.
He put 15 tracks on the CD and sold copies for $2.
"They were selling like hotcakes," he claimed.
It wasn't long until he came out with his second effort, Money on my Mind. This record had 15 tracks, too, and Ochoa said he sold the CD for $5 all over the Yakima Valley when he would do shows.
After his third release, Unstoppable, Ochoa was invited to go on tour with a hip-hop artist named Bullet.
"He's one of the best independent rappers in the northwest," Ochoa said.
Soon Ochoa was traveling all over Washington, Oregon, Idaho and parts of northern Nevada.
Taking Care of Business is only available at Ochoa's shows or from his myspace page, www.myspace.com/joedyjoe509909. He is expecting his CD to be in stores such as Audels Music in Sunnyside, Music For Tha Homies in Toppenish, Off the Record in Yakima and Barrio Music in Pasco.
He's also trying his best to break into the industry "big time," but says despite having decent connections, he needs investors.
"That's the only way to really make it," he said of the need for investors.
Once he gets Taking Care of Business in stores, Ochoa will begin work on his fifth effort. This CD, he promises, will be everywhere. He wants his music to be available on itunes and is hoping to get signed to a label.
If that doesn't work out, Ochoa said he will continue to work independently.