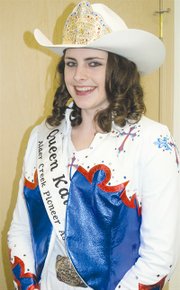 BICKLETON - The community of Bickleton crowned one of its own yesterday as the 2010 Alder Creek Picnic and Rodeo queen.
The coronation took place yesterday, Sunday, at the Bickleton Presbyterian Church, where Katelynn Clinton was crowned.
Clinton, a Bickleton High School junior, will represent the rodeo and community at a host of events throughout the year, starting this Saturday and ending in December.
In between she will appear nearly every weekend in parades and rodeos from Ellensburg to The Dalles.
Her itinerary includes the Sunnyside Lighted Farm Implement Parade and the Yakima Valley Fair and Rodeo in Grandview.
Yesterday's event was not only about crowning Clinton, but also displaying the saddle and outfits she'll wear during the course of her travels as queen.
In addition, the community supported Clinton by holding a silent raffle and a quilt raffle to raise support for her expenses as queen.
The afternoon also included a dessert buffet, piano music and cowboy poetry.