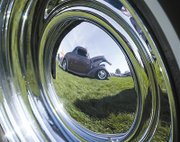 This past Saturday, the sun was out and all the entries at the Sunnyside High School sixth annual "Show 'N Shine" were polished and buffed to a perfect shine.
There were a total of 152 entries at the event, which benefits the annual senior class party.
Anyone with an enthusiasm for vehicles of many types was in for a real treat, as there were pedal cars, lowrider bicycles, motorcycles, classic cars and sporty pick-ups at the event.
Winning "Best of Show," an award voted on by attendees of the event, was Bob Cummings of West Richland. He showed a 1956 GMC pick-up with custom body and paint work.
Judges decided other awards at the event. Raul Farias of Sunnyside's 1991 Honda Accord won favorite import, the 2006 GT 400 owned by Ed Youngblood of Prosser won for favorite modern, the favorite muscle car was Wally Palomarez of Sunnyside's 1967 El Camino and the student entry in the muscle car division to win a SHS fusion class trophy was a 1970 Chevelle owned by Trey Serl of Sunnyside.
Ken Colby of West Richland owns a 1948 Ford pick-up and it was judged favorite truck. The favorite 4x4 was a 1972 Chevy pick-up owned by Jack Purdy of Othello. There was an adult and a student classic car winners. Bob Brogdon of Yakima won the adult division with his 1955 Chevy Del Rey and Malachi Cuellar of Sunnyside won the student division with a 1937 Ford Truck pedal car.
The favorite Ford was a 1934 Ford owned by Web Housen of West Richland and the favorite Chevy was a 1957 Chevy Belair owned by Charles Butler. A 1970 Plymouth Baracuda owned by Les and Donna Lenington of Yakima was awarded favorite Mopar, and Gary Christensen of Grandview took home the award for favorite topless for his 1958 Chevy Impala.
The favorite "Git-r-Done" award went to Henry Thompson of Grandview for his 1965 Pontiac GTO and Jim Stine of Kennewick won the favorite motorcycle division for his 2007 Big Dog K-9.
Albert Rangel of Yakima took home the trophy for the favorite bicycle and the favorite custom was John Alba of Grandview's 1939 Chevy.
Jerry Rank of Union Gap took home the trophy for best adult vehicle. He entered a 1936 Nash 400 and Ray Anciso's 2005 Chrysler 300 won the award for favorite low rider.
The best student award was presented to Samantha Siller of Sunnyside for her 1968 Camaro.