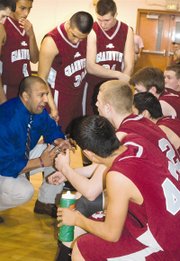 It was a good day for upstarts in CWAC boys basketball yesterday, this past Saturday, as the fourth-seeded Grandview Greyhounds knocked off third-seeded Selah for the league's final berth in the State 2A tourney.
In the CWAC's third place game Saturday in Sunnyside, Grandview used a strong first half to outlast the Vikings 80-70 and punch its ticket to State.
Later Saturday afternoon in Sunnyside, second seed Wapato handed regular season CWAC champ Ephrata just its second loss of the season in earning the league's top berth at State. Ephrata advances as the league's second entry at State.
Things didn't go Grandview's way early in Saturday's contest, as Selah led 11-5 at one point in the first quarter. The Greyhounds answered with a 9-2 run to end the quarter up 14-13.
Grandview's combination of pressure defense and ability to hit its three-point shots at a 57 percent clip led to an 8-0 run to start the second stanza and vault the Greyhounds into a 22-13 lead.
While Selah relied on its inside game to finally get on the second quarter scoreboard, shooting just 32 percent for the first half, Grandview built its lead to double figures thanks to timely perimeter shooting.
The Greyhounds led 39-26 at the break, then kept up the pressure in the third quarter to lead by as much as 51-30.
Selah answered late in the third quarter, using a 19-8 run to pull within 59-49 heading into the fourth stanza.
The Greyhounds held on from there to earn a State berth in the tourney this week at the Yakima Valley SunDome.
The balanced Grandview attack was led by Daniel Nielsen's 22 points, followed by Jericho Ramos with 16, Derek Newhouse with 15 and Christian Schrank, who tallied 12 points.
Tony Vela also had an outstanding game for Grandview, with a team-high eight rebounds and a game-high 10 assists to go with six points.
Nick Longmire and Drew Washut led Selah with 27 and 24 points, respectively.
The Greyhounds (16-8) have now won their last two games and 9 of their last 11, including the regular season.
The Greyhounds take their hot hand into the "breakfast bracket" of the State 2A boys tourney this Wednesday, where they play Fife at 10:30 a.m.
Fife finished the regular season at 17-3 as champs of the Nisqually League's 2A division.
If Grandview wins, it advances to Thursday's quarterfinal round at 4 p.m. against Burlington-Edison or Tumwater.
A loss Wednesday sends the Greyhounds to a 9 a.m. consolation game on Thursday.