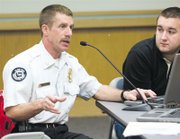 The Sunnyside City Council was given a presentation last night, Monday, at a workshop held before the regularly scheduled meeting concerning whether to remodel the existing Sunnyside Fire Station or to relocate altogether.
Sunnyside Fire Chief Aaron Markham told the council that typically an ideal fire station has access to between 1.5 and 2 acres. Preferred street frontage is typically between 160 and 180 feet.
Markham told the council that it isn't wise to put a fire station on a congested thoroughfare, but instead should be located on a side street near the thoroughfare where apparatus can get out and control the intersection traffic signals if possible.
One possible new site Markham spoke about was near the 1500 block of Federal Way.
Markham said this site meets the lot size recommendations and is the closest vacant lot to the existing station. The site is 8.6 acres in size.
Another bonus to the site is utilities are close by, including power, natural gas and water, because the site was previously occupied by row housing.
Markham also pointed out some cons to the new site. He said it is not as centrally located as the existing station, which sits on South Eighth Street between Edison and Franklin avenues.
The new site also has a railroad crossing immediately to the north and the property would need to be purchased.
There are some pros for keeping the current station. Markham said the fire station is located in the most central part of town and maintaining it would maintain a positive presence to the downtown community and businesses. The city also owns the property outright and owns an adjacent lot. The station recently got a new roof.
Some cons, Markham said, against the current station is that a major remodel of the station would require complete electrical and plumbing upgrades along with fire sprinkler installation.
Additional property might need to be purchased and all but one lot in the area has existing buildings on them or covenants.
Markham said he plans on attending a fire station forum next month and will get more information on fire station constructions, funding and property selection. He said he will request a formal plan for design and engineering services soon and this will give the city a better idea on what a new fire station would cost and how much it would be to renovate the existing one.
He said to fund the project the city could ask voters to approve a bond. The city could also pay for the project through debt service, which is paid for out of the general fund. Markham also mentioned the possibility of grants.
Due to time constraints of the council's workshop the council decided to continue the conversation on the fire station to the March 22 workshop.