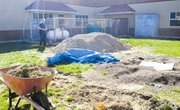 OUTLOOK - A hummingbird and wildlife habitat, marigolds, tomatoes, strawberries...these are just a few of the things students at Outlook Elementary School are growing in a community garden.
The school's 21st Century program provided the funds to build a greenhouse last year and since the initial garden began, those involved in the program have sought out other funds to help build upon those efforts.
Physical education instructor Mark Moore said two grants were recently obtained to further expand the community garden. Those grants were each in the amount of $1,000.
Lower Valley 21st Century Coordinator Melanie Willis said the Northwest Community Action Center is involved in providing afterschool activities for students, and through that organization she was able to apply for a "Rev It Up" grant provided by the Yakima Health District to help the Outlook school.
"The grant is provided to address nutrition and physical activity and wellness policies," said Willis.
She said the other grant was secured through the "School's Out Washington" program designed to promote healthy youth and healthy futures.
"It's a mini grant to build public afterschool programs while focusing on health issues relevant to the community," said Willis.
Moore said the community garden wouldn't be possible if it weren't for community members' contributions, either.
"Jim and Teresa Gauley donated lumber and the cemetery donated four yards of soil," he shared.
Two master gardeners from the Washington State University Master Gardener program in Yakima are also assisting students at Outlook Elementary School. Moore said the gardeners are for 10 weeks making visits to the students, sharing their expertise and skills to the afterschool program.
With the addition of raised garden beds this spring, Moore said students will be able to add vegetables to the growing garden.
"I'm passionate about nutrition and the garden works toward that," said Willis, who is a nutritionist.
She said the program at Outlook Elementary School promotes the Farm-to-School program and the food service staff at the school are furthering the effort to promote healthy eating, as well as the other staff members.
"The staff there is passionate about promoting outdoor activities, as well," shared Willis.
It is her hope that Outlook students will learn healthy eating habits and healthy activities to prevent obesity.