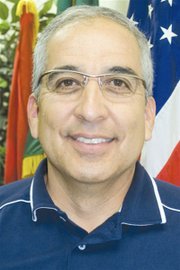 GRANDVIEW - Deciding to take its time in a search for a new city administrator, the Grandview City Council yesterday indicated it will select Public Works Director Cus Arteaga for the post on an interim basis.
The discussion took place Tuesday at the end of a day-long council special session, during which councils generally don't take formal action.
Since former administrator Scott Staples left last month, Mayor Norm Childress has been handling many of the administrative chores. At the same time, department heads like Arteaga have picked up the slack as well.
The meeting yesterday was in response to Councilman Jesse Palacios' desire to wait at least a year on hiring an administrator as a way to save money.
Childress opened the discussion by saying he's done all that he can do in carrying on without an administrator to run the city's day-to-day operations.
A 30-year engineering services employee with Benton County, Childress told council he's using his vacation time and is so busy with the city he's concerned he won't be a good employee for the county.
It was Councilman Mike Bren who broached a happy medium, suggesting Arteaga serve as interim city administrator. City Clerk Anita Palacios would also take on extra duties as Arteaga's "right hand" person under Bren's scenario.
Bren made the suggestion because he said most of the city's major projects are already under Arteaga's guidance.
He also noted Arteaga has a good relationship with the Port of Grandview, something the city needs in its administrator.
"We have dropped the ball with our relationship with the Port District big time," Bren said.
When council asked Arteaga's thoughts on taking the interim post, he said he would do whatever the city wanted him to do to help with the transition to an eventual permanent administrator.
Council members unanimously gave a thumbs up to Arteaga's selection, and at its meeting next Monday, March 15, will take action to make the move official.
During the meeting council will also decide how much extra pay to give Arteaga and Palacios for their extra duties.
Council yesterday also agreed with Bren's assessment that it would be at least through the end of summer before Grandview finds a permanent city administrator.
To that end, the city is also finalizing a job description for the position, which will likely include additional responsibilities such as specifically marketing the improved downtown corridor to prospective businesses.
Childress told council he was pleased with the tone and outcome of the city administrator discussion.
"Today went a lot better than I thought," he said. "I'd been dreading this meeting. If you didn't do something then I might not be around."