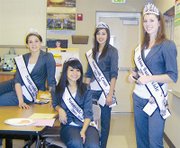 Young ladies that are sophomores living within Sunnyside School District boundaries that are either home-schooled, attend Sunnyside High School or Sunnyside Christian High School and are eager to represent the community are encouraged to throw their hat into the ring for the title of Miss Sunnyside.
And informational meeting for potential 2010 pageant candidates will be staged at Sunnyside High School on Monday, March 22, from 11:40 to 12:20 p.m. in classroom 134 (Teri Alvarez-Ziegler). Eligibility requirements, such as the need for a minimum grade point average of 2.8, will be discussed at the meeting.
Informational packets and application forms will be available at the meeting. Those who can't attend the meeting are free to pick up a packet and application form from that day forward. The application deadline is Monday, April 19.
The Miss Sunnyside Pageant takes place at the Sunnyside High School Auditorium on Saturday, Sept. 18, at 7 p.m.
Contestants will be judged on a myriad of things, including interview, talent and the evening gown portion of the competition.
The Miss Sunnyside committee awards scholarships of $1,300 to Miss Sunnyside, $800 to each princess and $50 to each non-finalist candidate.