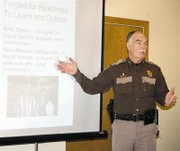 Yakima County Sheriff Ken Irwin was the featured guest speaker at the Monday Noon Rotary Club meeting at Snipes Mountain Brewery and Restaurant in Sunnyside, addressing progress made to combat gang activity in Outlook.
The "Stand Up For Outlook" anti-gang group sprang up out of Sunnyside community meetings that began last year, Irwin said, noting his involvement stemmed from a desire to work on a project that rippled outward from this community. His desire, he said, is to create a team mentality to duplicate and grow from one community to the next.
In terms of gangs, he said, "It took us a lot of years to get here and it's going to take us years to get out."
He said the first step in Outlook was to conduct a survey. Based on results from that survey, priorities were set forth at the following community meeting, of which 80-plus residents attended.
When it came to action plans, Irwin said, "Boots on the ground, we gotta have boots on the ground."
Thirty gallons of paint, and utensils to use it, were purchased, waste companies were notified their receptacles were tagged and people volunteered to sign up for a "paint out." A list of volunteers for any given day has been created and a new 24-hour policy is in place: if the Sheriff's office fields a call that graffiti needs tended to, it's done within 24 hours.
He identified key elements of a healthier community, strong families, good education, proactive law enforcement, visionary government and citizens with a volunteer spirit.
"Everybody's busy, everybody's got a job. But this is the only way we're going to get out and do this: you and me working together."