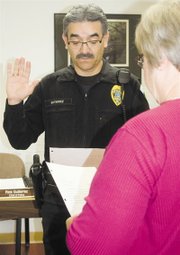 MABTON - The Mabton City Council's rift over the selection of an engineering firm continued last night with a 3-2 divided vote in favor of offering a contract to Gray and Osborne.
Under terms of the $5,000 contract, Gray and Osborne will serve as an engineering consultant as the city looks to draw up plans to improve its wastewater treatment plant.
Tuesday night's meeting saw a continuance of divided opinions over whether Gray and Osborne or Spink Engineering of Richland, which previously contracted with the city, should get the contract.
During a meeting two weeks ago, council voted 2-to-1 with two abstentions to select Gray and Osborne because the firm has a much larger work force available, as well as a chemical engineer on staff.
Councilwoman Vera Zavala was the lone dissenting vote at that meeting, claiming Gray and Osborne had problems with its contracts with some other Lower Valley cities.
Zavala also voted no last night, joined by Councilwoman Oping Hutson.
Council members Sophia Sotelo, Mario Martinez and Mark Gourneau all voted yes on the contract.
During a study session prior to the vote, Martinez fired a charge of bribery at Spinks for offering to take Sotelo out to a meal.
He said Sotelo should make that offer public before the vote. Sotelo confirmed that she did receive the offer and went to lunch with Spinks.
City Attorney Phil Lamb took a different slant, disagreeing with Martinez by saying that Spinks' offer was an attempt at lobbying. In addition, Lamb noted that the 2-to-1 vote at the previous meeting was a legal yes vote even though there weren't three votes to approve.
Also prior to the vote, Mayor Angel Reyna asked council members to consider the big picture and rise above their disagreements.
He said the city is under pressure from the state to improve its wastewater system. He added that grant funding might be available to help, but only if the city can move forward with an engineering contract.