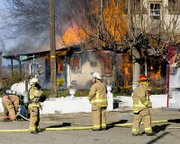 Yesterday (Tuesday) morning just before 8:30 a.m. firefighters from Yakima County Fire District #5 rushed to the 500 block of Wendell-Phillips Road near Sunnyside to save the home of Antonia Castilleja.
The property is owned by Eliza Negrete, but Castilleja was living in the 110-year-old, two-story farmhouse that firefighters found to be under pressure from smoke.
Smoke quickly began billowing from the first floor and fire erupted through the roof shortly after their arrival.
"Fire spread from the first floor to the second floor very rapidly," said Capt. Joel Byam.
Castilleja was home when the fire began and saw smoke coming from a rear room of the home. She got up and grabbed a young infant before exiting the home. She immediately ran to a neighbor's home and called 9-1-1.
Four stations from Yakima County Fire District #5 responded to the blaze, utilizing the experience of 20 firefighters. The fire was under control at approximately 9:45 a.m.
The home, valued at approximately $110,000, is a complete loss and the Red Cross was contacted to assist Castilleja and her family.
The Yakima County Fire Marshall's Office is in charge of the investigation.