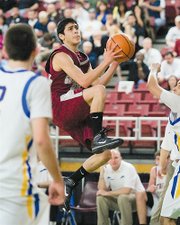 YAKIMA - In a missed opportunity, the Grandview Greyhounds boys basketball team fell just short to Fife yesterday, 58-55 in the opening round of the State 2A boys basketball tourney.
Wednesday's contest in Yakima was nip and tuck the whole way, with 10 lead changes.
In the first half, Grandview had no answer for the Trojans' Cameron Hayes, who scored 13 of his team-high 17 points in the first half. Hayes helped stake Fife to a 17-14 first quarter lead with a trey at the buzzer.
It was close throughout the second quarter as well, with Adrian Vela bringing Grandview to within 31-30 at the half on a buzzer-beating three-pointer.
Fife opened the third quarter by canning three consecutive treys to take its biggest lead at 40-32 with five minutes left in the stanza.
Grandview, plagued by a cold shooting touch much of the game in connecting on 38 percent of its attempts, at that moment found a spark when Daniel Nielsen knocked down a pair of three-pointers to help the Greyhounds to a 12-4 run to close out the third quarter.
Grandview Coach Roy Garcia said his team wasn't worried about the eight-point deficit.
"We just started playing, executing our offense," he said
It was anybody's ball game heading into the fourth quarter, with Grandview trailing just 45-44.
It looked like it might be Grandview's ball game.
The Greyhounds had found a way to slow down Hayes to just four points in the second half, plus a key Fife reserve, Maazin Butler, fouled out in the fourth frame.
But what might have been in the fourth quarter proved not to be. A big culprit, says Garcia, was Grandview's inability to block out Fife from the offensive boards.
"Rebounding has plagued us all year," he said. "Blocking out has been an Achille's heel."
The stats back the coach up, as Grandview was outboarded 48 to 33. The margin was more than 2 to 1 in offensive rebounding, as Fife had 16 caroms off the offensive glass to seven for Grandview.
Even so Grandview grabbed a 53-51 lead with less than two minutes to play thanks to a Christian Schrank lay-up.
Miscues derailed the Greyhound express in the final minute, though, as a turnover and bucket the other way followed by two missed free throws allowed Fife to cling to a 55-53 lead in the final seconds.
From there, the Trojans made just enough free throws to keep Grandview at bay.
Nielsen led Grandview with 19 points, followed by Derek Newhouse with 10 points, nine rebounds and three blocked shots. Schrank had a good all-around game with eight points and 10 rebounds.
Though disappointed, Garcia praised his team's effort. "I'm proud of the way the team played," he said. "It's great to be back in the dome."
Garcia played for the Greyhounds and is well aware of the program's legacy of winning a trophy every time it reaches the State tourney.
"It's a little pressure," he smiled. "We'll take it day by day and we'll come up with a game plan for tomorrow (Thursday)."
Grandview played Tumwater in a loser-out consolation game this morning (Thursday) at 9 a.m.. If the Greyhounds won, they'll play tomorrow at 9 a.m. against Wapato or River Ridge.