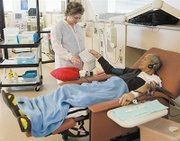 Long-time Davita, Inc. employee Stephanie Sanchez was recently promoted to facilities administrator at Mt. Adams Kidney Center in Sunnyside.
Sanchez has been with Davita, Inc., the company that owns Mt. Adams Kidney Center, for eight years.
She described her position as more of a manager and said she's involved with everything from the financial side of the medical center to the hiring of teammates (employees).
Sanchez also oversees in-services, such as making sure state policies and procedures are followed. She began her new position last November.
She first found herself interested in nursing as a senior at Granger High School.
"My dad was a PA (physician's assistant) and he kind of inspired me the way he helped people," Sanchez said. "I wanted to follow in his footsteps."
Sanchez enrolled in the CNA program at Sunnyside High School and eventually graduated from YVCC as an RN.
After working at the Toppenish hospital for a while a friend of hers told Sanchez how great it was at Davita and she's been the with the company ever since.
"I liked the dialysis rotation at YVCC," she said, explaining that she enjoyed working in that field.
Mt. Adams Kidney Center serves dialysis patients, and Sanchez said the center's mission is to be the best dialysis center the world has ever seen.
When she first began with Davita she worked with the company's peritoneal dialysis and home hemo dialysis programs.
"I taught patients how to do dialysis at home," she explained.
Sanchez said the patients would be trained at the clinic, either in Yakima or the Tri-Cities. Once the patient was ready to begin treatment at home, Sanchez would make sure the patient had everything set up and would periodically check up on them.
Patients that use a home hemo dialysis device actually filter their blood through a small portable machine five to six times a week. This is more times than what a patient would do at the clinic, which is usually three times a week. But where the patient that goes to the clinic must sit through a nearly four-hour process, the home patient spends much less time using the dialysis.
The peritoneal dialysis doesn't use the patient's blood at all. Instead, a cleaning fluid is injected into the body and the patient's own peritoneal (a lining inside the body) acts as a filter as the fluid is drained after four or five hours. This process must be done daily.
She spent about six months going between Pasco and Yakima helping set up home hemo dialysis therapies before settling in Pasco for a time. Soon she became the Eastern Washington Home Dialysis Program Manager for the region, which covers clinics from Yakima to Pendleton, Ore., to the Tri-Cities and Moscow, Idaho.
There she managed home programs and made sure there was growth and patients were being reached out to.
Davita, Inc. likes to promote from within and sent Sanchez to six months of leadership classes. When the position of facilities administrator opened in Sunnyside, Sanchez jumped at the chance to work closer to home.
"The new position is pretty similar to my old one," Sanchez said. "Instead of my people being spread out in a bunch of different clinics, not it's just one clinic."
Sanchez said she loves her job, enjoying the atmosphere of having a one-on-one relationship with her patients, adding they become like family. Because of that she admits it is easy to get attached, which can make it tough when there is a loss.
"You prepare yourself in the beginning," she said.
After that, she said, she just tries to provide the best care possible.
"When a patient hugs you and thanks you for giving them their life back, that's the most rewarding part of it," she said.