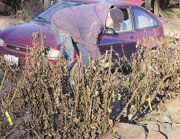 GRANDVIEW - The day for moving the Grandview Rose Garden is nearly here.
A moving party is planned for Saturday, March 20, and Grandview Parks and Recreation Director Mike Carpenter said it will be a coordinated effort to move the approximately 300 rose bushes from their current location at Westside Park to the eastside entrance of the city.
Work has been well underway in prepping the new home for the roses, and Carpenter said a couple of days prior to the moving party, there will be activity at the current site as crews begin unearthing the city's pride and joy.
"We want to keep the Rose Garden legacy alive...we believe the new site will be one the citizens can take pride in," he stated.
The workload for volunteers tending the gardens will also be reduced at the new site, according to Carpenter.
He said, "Citizens and businesses alike are getting involved in the project."
A service organization from Grandview High School will be providing food and beverages for those moving the roses and one business donated a port-a-potty.
"It's going to be a true community project involving three volunteer teams," Carpenter shared, adding, "It's going to be a great learning experience."
The moving party is slated to take place March 20 from 9 a.m. to noon.