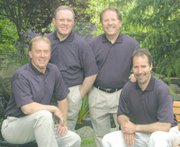 GRANDVIEW - This coming Sunday, March 14, Grandview Church of God will host a special performance by Lighthouse, a trio committed to sharing its faith through music.
Joining the Grandview church for the free 10:45 a.m. concert will be members of Sunnyside Church of God. Services will not be held at that church.
Lighthouse is comprised of Scott Hamilton, lead singer and tenor; Denny Bogart, baritone; and tenor Dick Fankhauser.
The group has traditionally performed with an additional member, but its baritone suffered a severe injury last summer and will not be performing this Sunday.
"Lighthouse feels privileged to be messengers of the Gospel and not entertainers," said Fankhauser.
He said the group believes in providing audiences with various music styles, particularly those of Southern gospel and hymn arrangements.
Lighthouse has been heard by audiences throughout the Northwest and appears on a love-offering basis.
The group also has CDs available for purchase on the day of the performance.
"They really enjoy sharing our Lord, meeting the people and singing together," Fankhauser shared.