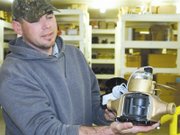 The city of Sunnyside is in the midst of a 10-year process during which it aims to replace the water meters of every water customer in town.
Shane Fisher is the city's associate engineer, and he said the reason for the upgrades comes down to better efficiency.
The new meters allow city employees to check water readings through a remote radio while driving through a neighborhood.
With the old meters, Fisher said it took five employees a total of seven days to manually check each water meter. Under the new system all it takes is a couple of employees driving by in a city vehicle.
Kirk Weets is an assistant supervisor with the city's water division, and he said replacing each of the 3,315 meters is also worth it in the long run for other reasons.
For one thing, he notes, as meters get older they slow down and give low readings. In other words, the older the water meter the less it will reflect the full measure of how much water a customer uses.
"The customer always benefits when a meter breaks down," said Jim Bridges, the city's interim city manager, noting customers pay less when there's a worn out meter.
That's bad for the city, though, as it misses out on revenue it's due.
As a result, the cost of $125 to $150 to replace a residential meter will be recouped within a year or so because of more accurate readings that reflect actual water usage, Weets said.
While swapping out old meters for new - Weets figures more than 100 will be replaced during 2010 - the city is also carrying forward a new policy of insulating the meters.
About three or four years ago, Weets said the city started phasing out the labor-intensive procedure of filling the meter boxes with sawdust to insulate them.
The problem is that the sawdust would cover the ground, blocking heat from the ground needed to help keep the meter from freezing.
Now with every new meter it installs, the city also places a large sealed bag filled with styrofoam peanuts above the meter to keep it better insulated.
Sunnyside is adding yet another twist, as the new meters are constructed so the city can turn off the meter and lock it in the event a water user doesn't pay their bill.
As for the 10-year process, Weets says that timeframe is based on the manufacturer warranties on the new meters.
Fresh from the factory, streamlined meters with no moving parts will be installed for some water users this year, Weets said. Those, he added, will have longer warranty periods, meaning the city's 10-year project could go on for a longer period of time.