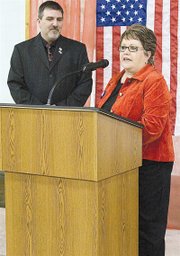 Sunnyside's best and brightest were honored this past Saturday during the annual chamber of commerce Spirit of Sunnyside community awards ceremony held in the Johnson Concentrates building.
The city's pioneer award went to Delta Aileen (Price) Bootsma who tomorrow, Tuesday, celebrates her 86th birthday. Bootsma was nominated by her daughter, DeAnn Hochhalter.
She was selected for the award as someone who was born and raised in Outlook and with husband Richard was an early settler in the Harrison Hill area.
Mayor Jim Restucci, grandson-in-law of Bootsma and who presented the awards, noted the Crescent Avenue home at the time was deemed "too far out of town."
Price Road in Outlook was named after Bootsma's grandfather, Restucci noted. She and Richard also opened and operated Dick's Body Repair for several years in Sunnyside.
Bootsma's contributions also included being a lifetime member of the First Christian Church in Sunnyside and working with the Sun Wa Garden Club to plant the roses that used to be in the Jerry Taylor Memorial Plaza area.
The award left Bootsma in tears. "I'm crying because I'm happy," she told the crowd.
In other awards Saturday night, Yolle Widdows-Guizar received the health care person award for her work with Sunnyside Community Hospital. Nominated by Ed Smolak, she was selected for her work as the hospital's welfare coordinator responsible for helping indigent patients qualify for medical coverage through DHSH. In addition, she was honored for helping patients qualify for charity care if they meet the criteria and for her loyal service to the hospital for more than 20 years.
Widdows-Guizar was also recognized for organizing the Festival of Trees fundraiser each year.
The Spirit of Sunnyside educator award went to Sunnyside High School science teacher Teri Alvarez-Ziegler. Nominated by Elda Cuevas, Alvarez-Ziegler was recognized for volunteer work as director and chaperone for the Miss Sunnyside pageant and court.
"She deserves this award because of all the time she donates to the program," wrote Cuevas, who estimated that Alvarez-Ziegler donates 1,500 hours of volunteer time to the program.
The volunteer award went to the Lucky 7 Bike Club and its representatives, Dan White, Julie Kerr, Ann Bardell and Dina Bootsma. The program was formed through the Sunnyside's Promise gang reduction initiative. Volunteers for Lucky 7, according to Lisa Fairbairn who submitted the nomination, work with young kids to teach them how to completely take apart and rebuild bikes. Volunteers contributed more than 450 hours last year to the program.
The youth male award went to Nick Steckler. Mark Baysinger nominated Steckler and praised him as a top 5 percent senior at Sunnyside High School who attends Running Start, is a member of Key Club and four-year varsity soccer player. Baysinger also noted Steckler is a board member for Sunnyside's Promise and a "great role model for his peers."
Steckler was especially singled out for presenting the idea to Sunnyside City Council for establishing soccer fields adjacent to the Law and Justice Center. The fields, funded by the city, will be open next spring.
The youth female award went to Audra Hays, nominated by Alvarez-Ziegler. Hays, a Sunnyside High senior, was on the Miss Sunnyside Court during 2008-09 and is active in both 4-H and FFA.
Alvarez-Ziegler praised Hays for organizing, planning and running the Holiday Princess Pageant, that attracted 40 contestants and more than 100 members of the community to attend. The result was nearly 500 canned food items to a local food bank. "It was an amazing accomplishment," said Alvarez-Ziegler.
The business person award went to Socorro and Jorge Bazaldua of Panda Bear Childcare and Learning Center.
Nominated by Luz Rodriguez, the Bazalduas were recognized for the way they encourage young children to participate in community services and for their contributions to local organizations.
Contributions included assistance for the Miss Cinco de Mayo Court, the Miss Panda Bear Court, radio KDNA, St. Joseph's church and the SHS year book.
The couple also sponsors a barbecue and swimming party for 280 participants each year.
In the public official/employee category, city Councilwoman Theresa Hancock was honored with the award. Nominated by Alvarez-Ziegler, Hancock was praised as a lifelong resident of Sunnyside, a board member of the Miss Sunnyside committee and a supporter of community events.
"We are fortunate as a community to have someone that is so selflessly committed to the advancement of our town," Alvarez-Ziegler said in the nomination statement.
In receiving the award, Hancock noted, "I believe in this city. This is a family, it's a delight to work with."
There were also two special awards presented Saturday night.
One was to Deputy Police Chief Phil Schenck for his work in organizing the gang reduction initiative. The honor was called the "Sweeping Sunnyside Clean" award. In response, Schenck said of the group's work, "Last February we jumped off a cliff without a parachute and we got one before we landed."
The other special award, presented by Chamber President Gerald Roy, was in honor of the Miss Sunnyside court's 60 years representing Sunnyside. All past and present court members, family members and volunteers present at the banquet came up for a group picture.
Roy praised the court past and present for attending 17 to 19 parades a year and participating in two events each week while at the same time maintaining a 2.8 GPA.
Roy said the award and recognition was for the court's "60 years of making Sunnyside proud."