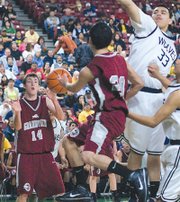 YAKIMA - The Grandview Greyhound boys basketball team kept the streak of State trophies alive this past Friday and Saturday, as it captured the eighth place hardware at the State 2A boys basketball tourney this past weekend.
First, though, it was all or nothing for the Greyhounds in Friday's loser-out consolation semi-final in which Grandview prevailed over CWAC rival Wapato by a score of 64-63.
It was a nip and tuck game all the way between the two teams, which split the regular season series at a game apiece. First it was Grandview leading 15-12 in the first quarter, followed by Wapato rallying for a 32-30 advantage at the half.
The Wolves continued to cling to the slim lead, up 48-46 after three quarters. Grandview caught fire from the field in the final quarter to at one point lead by eight in the fourth frame. Wapato tried to stay close, but Grandview hit just enough free throws in the final quarter, 7-of-12 from the charity stripe in the quarter, to keep Wapato at bay.
Grandview led comfortably by four in the final seconds when a desperate Wapato three-pointer trimmed the final margin of victory.
Daniel Nielsen led Grandview with 18 points, including clutch free throw shooting to the tune of 5-of-7 from the line. Tony Vela added 13 for Grandview to go with seven rebounds, six assists and three steals.
Derek Newhouse tallied 12 points for Grandview to go with four blocked shots. A fourth Grandview player was in double figures as well, Christian Schrank with 10 points and seven rebounds.
The Wolves were paced by Rigo Alvarado's 20 points, five rebounds and three steals.
The victory extended Grandview's season by one more game, into the all-important trophy round to make it 13-for-13 for the Greyhounds in earning trophies for each trip to State.
Saturday's fifth/eighth place contest was against Mount Baker, which Grandview lost 62-55.
It wasn't a contest early, as the Mountaineers led 16-8 in the first quarter. Grandview stayed close, trailing just 34-28 at the half and 36-33 heading into the fourth quarter.
As they did in the tourney opener last Wednesday, though, Grandview again struggled with rebounding as Mount Baker outboarded the Greyhounds by a nearly 2-to-1 margin, 58 to 31.
What made things even more difficult for Grandview is that the Mountaineers held a 24 to 9 advantage on the offensive boards, giving Mount Baker an 18-9 edge in second-chance points.
As a result, Grandview, 18-10, was able to get close, but not close enough as Mount Baker closed out the win in the fourth quarter.
Tony Vela led Grandview in scoring with 17 points to go with five assists and four steals. The only other Greyhound in double figures was Daniel Nielsen with 15 points.
Zach Stalin led Mount Baker with 19 points and 10 rebounds, including seven off the offensive glass.
Overall for the tourney, Nielsen was eighth in scoring average with a team-high 16.3 points per game. Derek Newhouse also averaged in double figures during the Greyhounds' four-game State run with 11.3 points per game.
Nielsen and Newhouse both earned all-tourney second team honors.