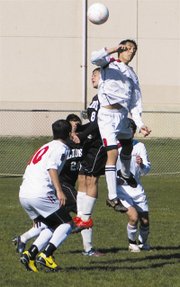 The Sunnyside Grizzly boys soccer team controlled the tempo, but couldn't control the scoreboard in a 2-1 overtime loss to visiting Kennewick this past Saturday.
The Lions struck for a goal in the first half when they were able to beat Sunnyside's back line and chip a ball over Grizzly keeper Luis Garcia.
The Grizzlies took charge of momentum in the second half, with several opportunities in close, particularly during the first 10 minutes and the final 10 or 12 minutes of the half. "We looked good, moving from offense to defense we created lots of opportunities to score but Kennewick crowded the box pretty well and we couldn't exploit the space," said Sunnyside Coach Juan Pineda.
Sunnyside had a golden opportunity to score with about 10 minutes to play when it misfired on a penalty kick. "We were having our best tempo of the game in the last 12 minutes," Pineda said. "We were bringing up three forwards instead of two to break their defense."
Sunnyside had one chance after another, with a 17 to 7 advantage in shot attempts.
Of the missed penalty kick, Pineda said his team hasn't had a chance this early in the season to focus on training for the kicks. The priority, he said, has been in building a solid defense and back line.
"When we build a team we start with the keeper and defense, then to midfielder then to forwards," he said. "We haven't spent enough time on finishing the plays, we have to work on shooting combinations."
Sunnyside finally got its goal with eight minutes to play when Jesus Gudino Jr. collected the ball on the left side of the field, and crossed the ball to Alfredo Gomez. "Alfredo got it on the far side and pushed it in," said Pineda.
Neither team scored again in regulation, forcing an overtime period.
Kennewick didn't wait long to score its golden, game winning goal in sudden death as the Lions' Mike Chavez blasted a shot from 35 yards out that curved away from Garcia and into the back of the net. "It was a rock shot with a good spin," said Pineda.
The coach praised his team's overall defensive play, though noted the Grizzlies need to work on doing a better job of clearing the ball away from its side of the field. "Kennewick took advantage of a couple of errors we made. Twice we were trying to clear it and didn't put enough power behind it."
Though it won't count on the won-loss record, Sunnyside actually opened its season this past Friday when it competed at a jamboree at Richland. Sunnyside played Chiawana and Hanford high schools in mini-games, two 10-minurte halves each.
Sunnyside and Chiawana tied 0-0 and the Grizzlies dispatched Hanford 2-0 in the other mini-game, as Gomez and Gudino both scored goals.
"We worked on our passing, trying some new players, putting our system together again," said Pineda. "The jamboree is to get rid of the rust."
The Grizzlies return to action this coming Thursday when they host rival Grandview.