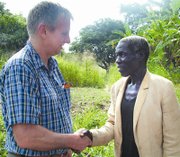 GRAND RAPIDS, MICH. - He was a sports standout, running cross country for Sunnyside High School in the early 1970s. Doug Seebeck still holds the record for the one-mile at 4:22.1 set in 1973, and he was a State champion his senior year.
He is the son of George and Pearl Seebeck.
After leaving Sunnyside for college, Seebeck took his talents to another level, running the half-mile in 1:52 while at Yakima Valley Community College under Coach Art Hutton.
"He wanted me to try out for the 1980 Olympics," Seebeck recalls.
He didn't pursue that goal, however. Instead, he went on to earn a degree in agronomy at Washington State University and traveled to Bangladesh, where he helped farmers improve their crop yield.
Seebeck's mission was to help impoverished countries, teaching them to become more self-reliant as he worked with the Christian Reformed Church's World Relief Committee.
After many years in the field Seebeck was asked by business donors supporting his work what more they could do to support those in the mission field.
"They wanted to be personally involved in ending poverty," said Seebeck.
He said he began reflecting on his background in Sunnyside and the idea emerged of organizing Partners Worldwide.
His organization is a non-profit that gives U.S. business owners the opportunity to mentor other business owners throughout the world.
A few years after establishing Partners Worldwide, the organization hosted "Outstanding Christian Calling," a conference for business leaders across the U.S.
"In 2006 we were looking at transformation in the marketplace and our featured guest speaker was Ed Silvoso," shared Seebeck, who said that conference was attended by Sunnyside's Jerry Haak and Herman te Velde, who were inspired to organize Transformation Sunnyside upon their return.
"We started out with the idea of creating jobs and helping the poor, but the organization (Partners Worldwide) has come full circle in that those in the U.S. are also looking at how they can make a difference in their own back yard rather than just overseas," Seebeck explained, stating groups like Transformation Sunnyside are popping up all over.
Because of how Partners Worldwide has evolved, Seebeck says it is no longer an organization, but a relationship between people who are helping others.
That partnership continues to shape Seebeck as he seeks out ways in which he can continue helping those struggling with poverty.
He recently visited India and said, "Helping the people there gain access to the things we take for granted is always eye-opening."
As a result of his efforts, Seebeck was encouraged to write a book, sharing what he has learned and inspiring others.
My Business, My Mission was released last year and there are colorful stories of the people he has met along his journeys.
"There is a story about Jerry and Rosie Haak to illustrate the vision of longevity of Partners Worldwide," Seebeck shared, stating another story included in the book is about Ralph and Cheryl Broetje.
The book was co-authored by Timothy Stone, and together the pair provides readers an opportunity to "visit six different countries and the lives of those touched by the partnership between the poor and the wealthy," Seebeck said, adding, "It's having a big impact...I'm happy about that.
"I am happy Partners Worldwide is having such a great impact on so many."