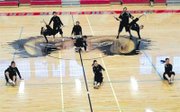 YAKIMA - This past Saturday the Sunnyside High School Grizzliettes traveled to West Valley High School and earned a spot in both the pom and hip-hop competitions at State to be held at the Yakima Valley SunDome in Yakima Saturday, March 27.
The dance team competed at Districts in three categories, including pom, dance and hip-hop.
"This competition seemed bittersweet," said Coach Melodie Griffin.
She said the last regional competition at Kamiakin High School gave the team something from which to work.
"We got second place in hip-hop," she recalled, stating the team didn't score as well at Districts, comparing the regional score of 243 to the score of 214 garnered last Saturday at District.
The team scored 216 in the pom category and Griffin said the team has its eye on a State Championship.
"We have our work cut out for us," she noted, stating the six members of the team who returned this year have been key to the dance team's success so far.
"We did a great job and we will do well at State," Griffin continued.
Her team missed qualifying for State competition in the dance category by eight points, but six individuals qualified for State in the drill down competition.
They include Jazmine Salmeron, Crystal Rivera, Kelley Bridges, Jaylyn Cervantes, Nellie Padilla and freshman Jessica Paxton.
Salmeron, Rivera, Bridges and Cervantes are all captains on the team.
The Grizzliettes have this year eight first-year members, seven of whom are freshmen. Griffin said this provides an optimistic outlook for the team's future.
"It is always an honor to be one of the teams that qualifies for State," she shared.