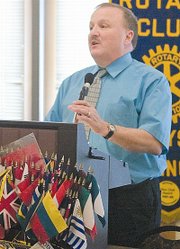 Sunnyside School Superintendent Dr. Rick Cole was the featured guest speaker at yesterday's Sunnyside Noon Rotary Club meeting, where he spoke about the district's new plan to improve graduation rates.
By looking at Sunnyside 10th graders who have taken the state's WASL test over the past 10 years, reading and writing scores have greatly improved. In the 2002-03 school year only 36 percent of sophomores could pass the state's reading portion of the test and only 25 percent could pass the writing portion. Those numbers are up to 73 percent for reading and 83 percent in writing.
Cole said this rise in scores is due to the district targeting those disciplines. He said the past few years the district has been focusing on math and has changed its curriculum recently. Scores for this discipline are dismal. In 2002, just 17 percent of Sunnyside sophomores passed the math portion of the WASL. In 2008-09, that number had grown to 21 percent.
But it's not WASL scores that the district is worried about. Instead, it's graduation rates.
Sunnyside had a 58 percent graduation rate during the 2008-09 school year. The number of students graduation last year totaled 249. Cole told the Rotary Club that the dropout rate last year was 10 percent.
However, he said these numbers are a little misleading. The state counts the number of students that started their freshmen year at Sunnyside High School and how many graduate from there.
Cole said 400 students enter Sunnyside High School as freshmen, which means 150 students don't graduate.
Cole said of those 150 students, 20 of them will obtain GED's, 30 will end up in intensive drug and alcohol treatments, 60 will do credit retrieval and not graduate on time, 20 will go into contract-based learning, 10 will go into the Transitions Program and 10 will go into the district's Choices Program.
In order to improve these numbers the school district is eligible for federal grants for the next three years. To get these grants the school district will have to choose one of four models offered by the government. Sunnyside has chosen the transformation model.
This model will focus the school district on implementing a new evaluation system for staff and students. Those teachers that are performing well will be identified and rewarded. Those who aren't will be supported and then removed if gains aren't made.
New strategies will be implemented to recruit, place and retain staff.
Other portions of the transformation model include selecting and implementing an instructional model based on student needs, providing increased learning time and ensuring ongoing technical assistance.
Cole said it is possible he will ask for more learning time for students. This would increase the school day by one hour and two weeks in the summer.
"We will get above the 60 percent graduation rate," Cole told the Rotarians. "But getting better than 60 percent is not our goal, we want to be at 100 percent."