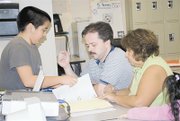 MABTON - Although the turnout for last Thursday's town hall meetings in the Mabton schools wasn't particularly high at the high school or middle school, parents and community members were given the opportunity to see what programs students are involved in and how those programs are impacting their educational experience.
At the high school students involved in FFA and the environmental science class of Steven Bennett gave presentations revolving around the work they have been doing.
FFA chapter president Karen Mendoza introduced those at the session to a skit her chapter performed recently in Goldendale during a regional contest. The team performing in the skit won runner-up honors, qualifying for State, which will take place in Pullman.
The skit presents a debate over open range cattle. One student, acting as a disgruntled motorist, presented the argument that open range livestock is a danger to motorists. Another student argued in favor of open range management because of the limitations on land available to livestock.
She said industry and population growth have encroached on land available to livestock and proposed motorists slow down in open range areas.
The students will take their performance to the State competition in May.
The environmental science students have been involved in a project, exploring nitrate levels in drinking water.
The class received a grant from the Washington State Department of Ecology to conduct a study of drinking water from private wells.
The students gave an in-depth account of their discoveries, provided informational pamphlets and created an educational poster to be displayed throughout the Lower Yakima Valley.
Bennett spoke during the presentation, stating, "The EPA (Environmental Protection Agency) is looking at the issue of high nitrate levels in the Yakima Valley."
He said the problem of high nitrate levels in drinking water is one of public concern and, if it so chooses, the EPA can take over zoning in the region.
"I found the study interesting because although my water smelled, it was safe," one student shared, stating her water had low levels of nitrates, but was high in sulfur.
Another presentation provided during the high school's town hall was that of the Achievement Via Individual Determination. The students in the class presented a slide show of field trips to college campuses around the state.
Samantha Rios said, "The experiences are meant to inspire students."
She said the Achievement Via Individual Determination wants to achieve academic success for the purpose of attending college.
Superintendent Sandra Pasiero-Davis shared her thoughts about the program, noting, "It's not about who goes to college, but how many of those students stay in college."
Senior portfolios were presented in the Mabton High School Library and various displays from other programs at the high school were available to those attending the town hall in the commons. Adults were given the opportunity to learn about programs available to them, including an adult GED program, in another classroom.
Following the town hall at Mabton High School those attending moved on to Mabton Middle School to learn about projects and learning opportunities provided to students there. Six classrooms were open to the public and student portfolios were being openly shared with anyone interested in learning what students have been doing.
Benjamin Kollmar, a seventh grader, said, "I showed my parents the work I have completed." He explained where he was struggling and what he did to improve.
One classroom was set up to provide resource material for those participating in the town hall. Representatives from Census 2010 were on-hand to answer questions and assist anyone interested in the census.
Yakima Valley Farmworkers Clinic provided representatives to assist individuals with signing up for state services and wanting to learn about services provided by the clinic.
Educational materials in both Spanish and English were provided by Merit Resources, giving community members information about various substances and substance abuse prevention.
The town halls were meant to inform, educate and provide students an opportunity to share with others, according to Athletic Director Brock Ledgerwood.
"The students wanted to be involved. They prepared presentations and this is the outcome."