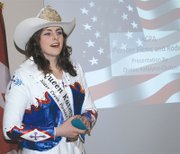 Recently crowned Alder Creek Picnic and Rodeo Queen Katelynn Clinton wants those around to know the 100-year history of the event.
She spoke to Sunnyside Daybreak Rotary Club members today (Wednesday), sharing the picnic and rodeo was first held June 14, 1911.
"This year will be the 100th annual Alder Creek Picnic and Rodeo and I wanted to be a part of it," shared Clinton.
She said her own history includes a great-great-great grandfather, James E. Carter, who served as the fourth and fifth Pioneer Day president.
Clinton was not born in what she calls her hometown of Bickleton, but her family moved there in 1996. She was 2-years-old at the time and has many fond memories of attending the annual picnic and rodeo, many of which surround the carousel that operates each year during the event.
She said the event started when Bickleton was made up of primarily Danish people, but the Yakama Indians attended the event during the first years.
There was a band, food and a merry-go-round.
The carousel was purchased in 1928, but it was first run at the pioneer picnic in 1929. It was tractor powered and is now powered by electricity.
Clinton said there are 24 horses on two tracks on the carousel. The horses originally had glass eyes and still have real horse hair to make up the tails.
Clinton said her family operates the carousel, and for that she is proud.
This year's Alder Creek Picnic and Rodeo, she said, will have food booths, the carousel and a cowboy dance. The rodeo starts Saturday, June 12.
"A majority of those who attend the event are not locals...that's how much it has grown," shared Clinton.
Because the celebration is the 100th, she said the Yakama Indians will be returning this year. She said they will have an encampment, a dance and salmon feast.
"I really am looking forward to that," the young queen commented, adding the Indians will also have on display much of their beaded artwork.
This year's event will be held Friday, June 11, through Sunday, June 13.
Clinton told the Rotarians she encourages everyone she meets to attend.