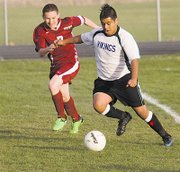 MABTON - The first outing of the season was challenging for the Mabton Vikings soccer team, which hosted the Wahluke Warriors yesterday.
In the first half of the 3-3 match, the wind and dust created havoc on the field, according to Vikings Assistant Coach Mike Davis.
"It was hard to control the ball," he shared.
In spite of the conditions, Mabton's Juan Aguilar was able to get the ball past the Warriors keeper two times. Aguilar's first goal made it between the posts at the 9-minute mark and the second shot slipped past the defenders at the 22-minute mark.
Viking Tony Espinoza was also able to rally past the Warriors in the first half. He managed to gain control of the ball and weave his way past the defense to score at the 12-minute mark.
Mabton led the match-up 3-0 at the half, and Davis said the coaching staff was seeing a lot of positive action on the field.
"We also see room for growth," he commented.
In the second half of the match Wahluke's Alfredo Leon came alive and scored all three of the Warriors' goals.
"The last of his three goals came in the final minute of the match," recalled Davis.
Mabton made 11 attempts at the Warriors goal, and the defending keeper was able to save eight balls. Barajas saved nine attempts on Mabton's side of the field.
"There are lots of things to work on, but the match was very positive," Davis commented.
Mabton travels tomorrow (Thursday) to Benton City and takes to the field against Kiona-Benton.