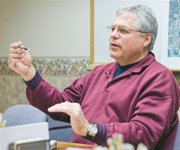 The Sunnyside Municipal Airport Advisory Board met last night (Tuesday) and members heard reports on how much it would cost to install devices that could guide planes to the airport or give details about the weather to pilots.
The advisory board's vice chairman, Amber Hansen, told members there are two auto weather observing systems available.
One type is called the Super AWOS. This system reports approximately every 20 minutes and allows pilots to know the temperature, dew point, wind speed and direction, visibility, cloud cover and ceiling around the Sunnyside airport.
Hansen said the device, however, does not offer official weather data to help reduce minimums for instrument approach. Cost for the Super AWOS is approximately $90,000.
The other system is known as AWOS. This system is an official weather data source and can be used by planes using their instruments for approach. Approximate cost for this device is $150,000.
The AWOS requires more annual maintenance and must have a clear 500-foot radius around it to operate properly.
Both devices are operated by the FAA and Hansen said funding can be secured through that organization.
Hansen also reported on what a GPS system would cost.
First, she said, it was recommended that any attempt at installing a GPS device should wait until after the runway work slated for the airport is complete. Once that is done, it will take approximately two years to get the system running. Hansen said a survey would have to be completed first, and that survey is estimated to take about one year to complete. It would also cost approximately $90,000.
Having a GPS system in place would allow pilots to punch in coordinates on their airplanes to help them find the airport.
Noting that only Pasco and Yakima have an AWOS, bringing one to Sunnyside would, "put us on the map," Sunnyside Mayor Jim Restucci said.
Sunnyside interim City Manager Jim Bridges told the committee that it would be good to start counting the number of planes coming into the airport in case funding was ever sought for these two devices. He said he would look into a camera system that might be able to keep count.
Bridges also updated the committee on tie-down fees and lease prices that are charged by other small airports like Sunnyside's.
He said that the Sunnyside airport does not currently collect tie-down fees. As far as leases go, Bridges said the city has seven of them that bring in $3,100 a year.
This doesn't even come close to matching the amount of money spent on maintenance at the airport, about $28,000 a year. Bridges, however, said it is common that most small airports aren't self-sustaining.
Prices for tie-down fees range from airport to airport. Bridges listed prices for the Prosser airport, Vista Field in Kennewick, Bowers Field in Ellensburg, the Omak airport and Deer Park airport. Fees ranged from $10 to $30 per month. Hangar fees can range from $20 to $163 per month.
Committee member Ted Durfey suggested the cost be tied to how much square footage is being used.
The committee will also look into how long the leases should be for.
"We want to be competitive, but we don't want to run our current leasers off," he said.
A courtesy vehicle was also talked about at last night's meeting. The committee believes it would be valuable to the airport if pilots had a vehicle they could use when they arrived in Sunnyside.
Bridges said the city could probably offer up one of its vehicles that is ready to be surplused.
The committee will meet again next month on Tuesday, April 20, at 6:30 p.m.