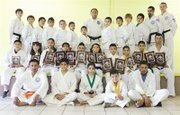 The students at Northwest Tae Kwon Do Association in Sunnyside quietly enter Navarro's Community Center and ask permission to enter the changing rooms.
A curt word from Grandmaster Rocky Gonzalez gives the students the permission they need and they quickly bow and head to get changed. Once the students are wearing the proper uniform to begin training, they again ask permission from the grandmaster to enter the training area. Once again, a curt word from Gonzalez and the students bow and enter the area.
The students are quiet and attentive, in other words very disciplined. It is that training that helped the students bring home 14 plaques and a handful of medals from the Central Washington Karate Championships held in Grandview last Saturday.
"This time they came to win," Gonzalez said, noting a marked improvement in his students' performance from a tournament in Walla Walla held earlier this year.
The students competed in two disciplines, Kata and Kumite.
When students do Kata they are doing detailed choreographed patterns of movements. Kumite means sparring, and is the part of Tae Kwon Do where the students train against an adversary, using techniques learned from Kata.
"Kata is defending yourself against four different opponents from four different directions," Gonzalez explained.
The Grandmaster said his particular brand of Tae Kwon Do is unique because it is one of the oldest styles from Korea. Gonzalez has been studying the art since 1961 and is a ninth degree black belt.
Gonzalez said his master gave him a unique set of representations for the Kata he teaches, naming them for times of triumph for the United States.
There are five representations of Kata at the Northwest Tae Kwon Do Association. They are E. Pluribus Unum, which means united in one, George Washington, Abraham Lincoln, Franklin Roosevelt and John Kennedy.
The names use American icons to represent the school.
"That's important during these times," Gonzalez said.
The school consists of approximately 25 students and they compete in competitions in Washington, Oregon and Idaho. Gonzalez said he hopes to participate in 10 competitions this year.
Earning first place plaques in Kumite at the Grandview tournament were Isidro Soberames, Mario Saldana, Maribel Macias and Marilynn Navarro. Earning second place plaques in Kumite were Elexis Ortega, Jonathon Ortega, Luvia Rivera and Jared Muzzy. Bringing home third place plaques in Kumite was Marcos Macias.
Earning first place plaques in Kata were Mario Saldana, Jared Muzzy and Mario Navarro. Luvia Rivera brought home a second place plaque in Kata and Jared Muzzy earned a third place plaque.
Those students placing fourth through sixth in either Kata or Kumite received medals. Oscar Macias and Jadyn Muzzy received fifth place medals in Kumite and Claudia Peña earned a sixth place medal in Kumite.
The Northwest Tae Kwon Do Association meets three times a week at Navarro's Community Center in Sunnyside. The school has been in Sunnyside for the past 10 years.
For information on how to become a student contact Grandmaster Gonzalez at 509-833-8020.