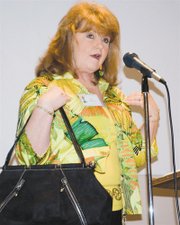 PROSSER - While purse shopping recently Christian Women's Connection guest speaker Janice Mathers concluded, "A purse can tell a lot about the woman who carries it."
This past Tuesday she shared her insight at the monthly meeting in Prosser, explaining purses are unique, as are women. "A woman who carries a big, soft, supple purse is a woman with lots to give."
Holding up a purse with a skull and crossbones, Mathers told those at the meeting it is makes a bold statement and reminds her a lot of a boy named Thomas.
Thomas, she shared, was a young man who had difficulty in school. He projected himself toward others as a "poisonous" individual. His teachers and counselors didn't understand him and the other children didn't get along well with the youngster.
Because he struggled in a regular school setting, Thomas' mother decided to teach him at home. "He blossomed," shared Mathers.
The author continued her story, sharing the Thomas she spoke of was none other than Thomas Edison, inventor of the light bulb and discoverer of electricity.
Moving on to share her insight, Mathers said she has had a variety of purses throughout the different stages in her life, including the diaper bag she carried when her children were young.
That diaper bag is torn and tattered. It is stained and was full of crumbs. It was once clean and full of goodies that represented a hopeful outlook, but people's lives are like the diaper bag, according to Mathers.
"Life can be like a diaper bag...clean and full of promise until we are held together by safety pins," she said.
Her life was once like that. Mathers shared she lost her father to cancer when she was young and in essence lost her sense of security.
"I became an introvert," she shared, stating she always felt a sense of impending doom.
Mathers said she exhibited what some might consider neurotic behavior, including insisting her engagement only be three weeks for fear of something horrible happening.
"When my sons were born I was sure one of them would die of crib death," she continued.
Mathers said she chose to stuff her negative feelings and dress them up.
She held up a very large purse, stating she switched from a diaper bag to something that looked pretty on the outside. Inside, however, there was lots of stuff, including a Gatorade bottle.
She explained the stuff of her life was shoved into what was a nice looking exterior.
But, Mathers' sons, she shared, unraveled her life.
"It was chaotic," she recalled, stating the two boys managed to get beyond all methods of child-proofing, including the dumping of an expensive bottle of perfume and cutting the phone cord while she was on the phone.
Mathers continued her attempts at shoving all her burdens into a "purse."
Her attempts made the load all the heavier until she began to realize she occupied her time with temporary things...things that were not as permanent as the relationships she held.
Shifting her focus on the relationships helped. Mathers changed purses and found one that she said fit all seasons of life. It had all the storage she needed, but was designed to carry a Bible.
Because of that purse, she began to read scripture and learn how to restore her sense of security through the realization that, "God is real.
"Too often we allow sin to separate us from that reality."
Mathers' grew in her relationship with God after purchasing that purse and the result is, "No longer am I the quiet one at a party."
She said, "Life is a series of seasons. The secret is to find a way to move into each season gracefully...God has never lost sight of who you were meant to be."