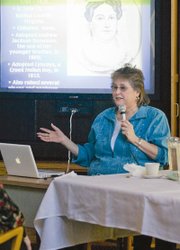 The members of the Sunnyside Nouvella Club heard from club President Karen Jaquish yesterday, Thursday, as she spoke about former first ladies at the club's monthly meeting.
The presentation was in honor of Women's Health Month and the presentation was a continuation of a presentation Jaquish did last year.
Jaquish promised the Nouvella ladies juicy details of the lives of the nation's former first ladies. She started with Rachel Jackson, wife of President Andrew Jackson.
The big scandal in Rachel Jackson's life was she married Andrew Jackson when she was still married to another man, making her a polygamist.
Jaquish explained that Rachel had gotten married as a teenager to a man who proved to be tyrannical and jealous. She soon left him and went back home, where she met Andrew Jackson, who was visiting her father.
During this time, Jaquish said, Rachel's husband tried to win her back. Upon discovering her friendship with Jackson, the husband accused him of improperness.
Jackson denied doing anything wrong and challenged Rachel's husband to a duel. The husband quietly left town.
Two years after Andrew and Rachel were married, it was discovered that Rachel had never gotten divorced. Her husband had only filed for divorce but it was never finalized. This caused tongues to wag.
The subject came up when Jackson ran for governor of Tennessee. The incumbent made mention of the fact during a debate and Jackson sprung to his wife's defense, attacking the governor. Jackson even challenged the governor to a duel.
"Jackson never forgave the offenses to Rachel's honor," Jaquish told the club.
Jackson challenged another man to a duel that gave offense to his wife. The duel resulted in Jackson shooting the man in the stomach, but not before being shot in the chest himself. The bullet was too near Jackson's heart to be removed and he carried that bullet in him until the day he died.
"It was a painful reminder of his love for his wife," she said.
Rachel Jackson died shortly after Jackson was elected president.
Jaquish spoke about Hannah Van Buren, as well, wife of Martin Van Buren.
Jaquish said the two had grown up together and were married for 12 years until she died at the age of 35. One of her last requests was for her husband to give her a cheap burial. The money he saved was supposed to be given to the poor.
It was 18 years later that Van Buren moved into the White House, after having been a bachelor since the day Hannah died.
Anna Harrison, the wife of Benjamin Harrison, is the only first lady besides Martha Washington that never got to live in the White House. Benjamin Harrison died one month after giving his inaugural speech. She also holds the record of shortest time as first lady and she never visited Washington D.C.
Jaquish also spoke briefly about the wives of John Tyler, Letitia and Julia.
Letitia Tyler died while her husband was serving as president. Two years later Tyler married Julia. He was 30 years older than her, being 54.
Jaquish said she is fascinated by the wives of America's presidents.
"I find all of them interesting," she said.