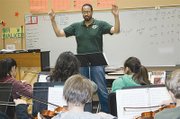 He has been teaching students in Sunnyside since 2007, but Bruce Walker isn't just any orchestra teacher.
He has a passion for his work and the enthusiasm he has for his students led him to successfully seek an opportunity to attend the Pierre Monteux School for Conductors and Orchestral Musicians this coming summer.
The summer program, Walker said, is intensive and tests the aptitude of the participants.
"I have been in the program before. I was in grad school at CWU in 2006 when I was accepted," he shared.
Walker believes the program will provide him professional development and advance his skills as an educator at Sierra Vista and Harrison middle schools, as well as at Sunnyside High School.
He is also the assistant director and conductor for the Oregon East Symphony in Pendleton.
The Pierre Monteux School's practice and curriculum requires those in the program to adjust to a rigorous routine. "There are challenges including short notice practices that test your skills and knowledge," shared Walker.
He said the rigor includes being provided a score that must be studied in just two days, all the while the participants are busy working on other musical skills.
"When one is not on the podium conducting, they are in the orchestra and are expected to learn a musical piece at a fast rate," Walker explained, stating the orchestra must master a piece in an allotted time. If a member falters, the conductor will gladly single the individual out.
"It's real world preparation," Walker noted, stating he is eager for the opportunity to collaborate with colleagues from across the nation.
"In 2006, I established some strong bonds with those I met at the school...I even went to my old roommate's wedding," he shared.
The opportunity to attend the Pierre Monteux School is just one being provided Walker, though.
Just this week, he learned he is also being tapped to teach orchestra students in the Middle East through American Voices.
"I trust Mark Thayer and he said the opportunity is life-changing," said Walker, who believes he would be traveling to Northern Iraq and Beirut, if he chooses to accept the opportunity.
Nothing has yet been set in stone, as talks between Walker and Thayer are still underway.
Walker, however, said he is hoping he can take advantage of both opportunities. If there is a conflict between the dates of the program at the Pierre Monteux School and the American Voices trip, he believes he will forego the trip to Maine.
"It's still up in the air," he shared, excited to be presented two opportunities to expand his experiences in the music world.