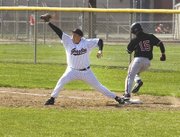 The Sunnyside Grizzlies opened the 2010 baseball season with a come-from-behind win against the Riverview Panthers this past Saturday. The Grizzlies scored six runs in the final 3 1/2 innings to win 7-4.
Sunnyside started Jaime Sarmiento on the mound and he lasted two innings and gave up four hits in his outing. Sarmiento also got one batter to fan and walked two.
Sunnyside kept Riverview scoreless in the first inning but the Panthers got four runs in the top of the second. In that inning the Panthers got the benefit of two hits, two errors, a walk and one wild pitch.
"Jaime did a good job of keeping the ball in the in-field," Sunnyside Coach Terry Shines said. "We just didn't make a play on the ball."
In the bottom of the second Julian Rivera scored for Sunnyside on a Sarmiento RBI.
To start the third inning Shines rotated Justin Reyes to the mound. The move was effective as Reyes pitched the third and fourth innings on just 12 pitches.
"Justin came in and did a great job," Shines said. "He didn't get hit hard, but kept (the ball) in on their hands."
Sunnyside scored two runs in the fourth inning to cut the Panthers' lead to one run. Chance Graff and Bernald Rodriguez picked up RBIs for the Grizzlies in the inning.
In the bottom of the sixth inning Luis Valles, Rodriguez, Travis Jones and Graff all scored runs as the Grizzlies pulled ahead for good.
Reyes went the final five innings on the mound for Sunnyside to pick up the victory. He got dinged for four hits, but also had three four strikeouts and only walked one batter.
Rivera went 2-for-3 at the plate for Sunnyside, as did Chance Graff, who also added an RBI. Lane Pickel hit a double for the Grizzlies and was 2-for-3. Valles, Jones and Leo Cuellar all had one hit in the game.
Shines said he was happy his team didn't quit and pulled out the win. He wasn't too happy with his team striking out eight times, adding that is something Sunnyside will have to work on. The Grizzlies also left five guys on base in the game.
Sunnyside will play a doubleheader on Tuesday, March 23, at Hanford. The first game will start at 3 p.m.