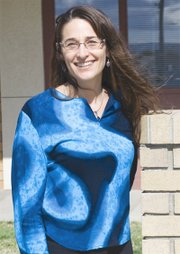 Erika Barrom, a fourth grade teacher at Sunnyside's Chief Kamiakin Elementary School, has been selected to attend the 2010 Mickelson-ExxonMobil Teachers Academy at the Liberty Science Center in Jersey City, NJ.
The second teacher from Chief Kamiakin selected for the academy in as many years, she was one of only 200 teachers from across the country to be selected to attend the intensive one-week, all-expense paid professional development program this summer.
Last summer, Sunnyside's Jessica Schenk was selected to the academy.
A panel of educators from the National Council of Teachers of Mathematics (NCTM) and the National Science Teachers Association (NSTA) selected Barrom to attend the academy this coming summer. The panel based its decision on her qualifications, dedication to inspiring students at an early age and her overall commitment to enhancing the teaching profession.
During the academy, scheduled for July 18 - 23, teachers will discover new ways to excite students using experiments that demonstrate various math and science concepts, including force, gravity and probability.
The academy curriculum works to deepen teachers' understanding of these principles by conducting hands-on experiments that teachers can share with their students in the classroom.
ExxonMobil partnered with Phil and Amy Mickelson, the National Science Teachers Association and Math Solutions to found the Mickelson ExxonMobil Teachers Academy in 2005.
The Academy is designed to engage students in math and science at an early age and to retain their interest in these subjects through college and into their careers.